A smart image size converter
Create a design and multiply it to all the sizes you need. Our tool handles the smart resize so that your elements will always be repositioned in the right place.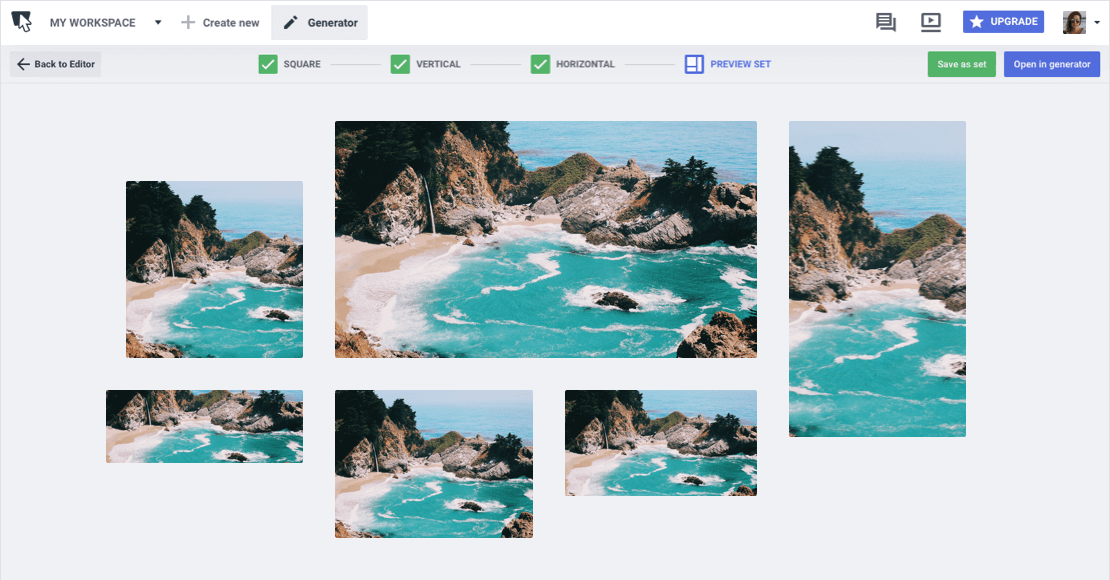 How to resize an image - step by step guide
Find out how to resize your images without losing time, quality or important design elements.
1

Create your design

Start designing your banner from scratch or from a template using Bannersnack's easy to use and intuitive app.

2

Click on the ReSizer

Once you're happy with your design in one size, choose the Resizer option from the left menu.

3

Choose the size you need

We have presets for the most frequently used image sizes, but you can also add custom sizes.

4

Adjust the new designs

Although the tool can smartly reposition all your elements to help them fit perfectly, you may need to make small adjustments to create the design you need.
Predefined Social Media & banner sizes
Now you can finish your campaign and share it everywhere online within minutes! We offer preset sizes for all the most frequently used Social Media and banner ad channels, so you can resize with a single click.
Facebook Page Cover
Resize your design to create a new Facebook Cover within minutes. The Facebook Cover size is 820 x 312 px.
Facebook Post
The Facebook post size is one of the most frequently used sizes. Convert to 1200 x 900 px with only a few clicks.
Facebook Ad Carousel
The perfect Facebook ad type for eCommerce businesses. Resize to a square 600 x 600 px for a perfect fit.
Facebook Event Cover
1080 x 1920 px is the newest Facebook event cover size. Don't create from scratch, save time and resize your poster with Bannersnack.
Twitter Header
Make the perfect social media cover banner from any design! Resize to the ideal Twitter Cover size - 1500 x 500
Instagram Story
Post a story in minutes! Just use the Instagram Story Size: 1080 pixels Wide x 1920 pixels tall to make visual stories that fit perfectly.
An Image resizer that converts the size and keeps the quality
Resize jpg images
With our smart resizer tool, you don't have to lose the quality of your photo when you resize it. Now you can resize your JPG image with a few clicks while keeping all your elements and layers on the page. It's a revolutionary photo resizer for JPG images that allows you to make a bigger image from a small one and even change the ratio.
Resize png images
PNG images are ideal if you want to preserve the quality of your design and keep it as sharp as possible. Now you can resize and transform JPG images to PNGs with only a few clicks. Change the size, ration, and format of your design while maintaining quality. Download your design in the preferred format: JPG, PNG or GIF.
Resize GIF images
Try the most versatile online design editor to change the size, format or ratio of your images. Bannersnack helps you resize GIF images to the desired preset sizes, and, as a bonus, you can even transform your static design into a cool animation and download it as a GIF or MP4. Get creative and start using our revolutionary features today!
Design Faster Today - Try Bannersnack's Smart Resizer
No need to adjust the designs over and over again. Say goodbye to repetitive tasks and resize all your elements with a single click!