Online Video Maker
Create a Video Effortlessly
Whether it's about YouTube videos, Instagram Stories, video ads, or video slideshows, a video creator will bring your ideas to life and help you reach your target audience in a more engaging way. Welcome to Bannersnack's ONstage, the professional video maker where great ideas turn into engaging stories.
Stage Your Videos to Perfection Using the Right Editing Tools
Trim & Cut
You can trim a video to the desired length by dragging the start and end position on the timeline. Cut it as you wish and create complex videos.
Crop
Use our video maker to crop the video file to the desired aspect ratio. Need to emphasize a specific angle? No problem, just crop, and scale.
Scale
Click and drag until you reach the size you need. Not all files match desired formats. Customize them in just a few clicks.
Filters
Preset filters can be found in the editor to give a certain twist to your video. Choose the one you like, apply it, and voila.
Autoplay & Loop
Whether you choose to Autoplay your video or let it just flow in a loop, you always have a preview of your work.
Download as...
From HTML5 to MP4 and GIF, go ahead and use your work on all platforms. You just focus on creating the video—we'll take care of the rest.
Stock Videos for Customization
and Templates for Inspiration
The "director's block" is a thing and we all know that. Choose the scenario that fits your message best by using our stock video library or video templates gallery. Start from a template and then customize it as you wish.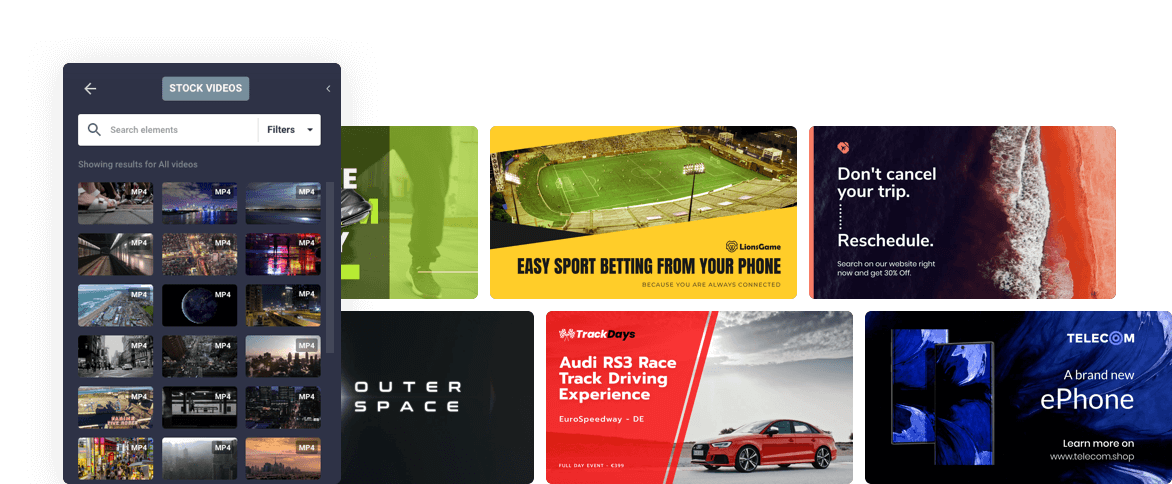 How to Make a Video Online
When it comes to complicated video editors, mixing, scaling, and adding effects are sometimes big productivity issues. In just moments, with Bannersnack's ONstage video maker, you can create animated online videos for any platform.
The first step is to choose the right frame in which you want to create your video ad. Choose a standard template or create a custom size.

You can upload the file in the editor or choose a stock video from our library, and you're good to go.

Start editing your videos by adding effects, transitions, text, changing colors, setting loops, or mixing more videos.

Ready to publish? Download video as HTML5, MP4, or GIF. Congratulations! Your video is ready to be shared.
Set the Stage, Make the Performance With Bannersnack's ONstage Video Editor Premium Feature
Take visual content a step further by purchasing a subscription today. Get access to Bannersnack's ONstage video creator that offers a neat and intuitive video editing interface, which simplifies your video creation process.

Lights, camera, get ONstage!