Choose from hundreds of professionally designed layouts
Your Facebook page has never looked so fresh and original. Create Facebook covers, posts, banner ads and more, that turn into likes and shares.
Make a banner
Facebook cover
Use Bannersnack as your very own Facebook cover maker and create a great looking timeline cover. Start from one of our many cover templates.
Facebook banner
Create image banners for your Facebook campaigns using our banner creator, grab the attention of your target audience and increase your conversions.
Facebook event covers
A dull event cover will make visitors less likely to participate. Create a cool event cover that will make everyone join up.
Make your images come to life with animations
Stand out and switch from ordinary to extraordinary. Earn more likes by using GIFs or MP4 files as your Facebook cover. Generate engagement by adding SVGs in your banners. Hassle-free, of course!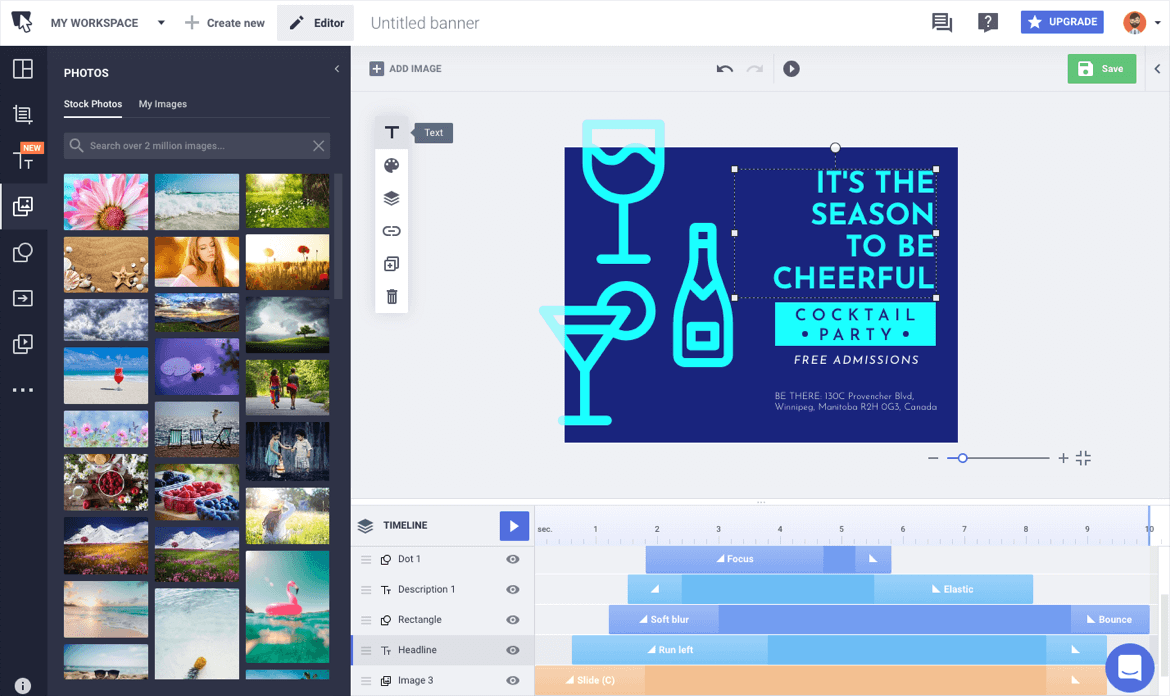 6 reasons to use our free online ad tool
Keeping your Facebook page fresh and up to date has never been so easy! Take advantage of all our features. Save time & money while improving your performance. Yes! It is as easy as it sounds!
Limitless photo library
Make your images look outstanding with our professional stock photos. You have up to a million options!
Go for neat typography
Don't forget about your copy! We have the coolest fonts and some great typography presets, created just for you.
Endless customizations
Personalize your ad, cover or post with your own images, fonts & effects, and make your banners fit your own style.
Benefit from preset sizes
Once using our free Facebook banner maker, you don't have to worry about sizes anymore. We've got them all ready-made for you!
Save time
Improve your efficiency and workflow by taking advantage of all features, preset layouts, responsive graphics, ready-made sizes and more.
Stay on budget
Boost your social media income while staying on budget. Use our free online tool and don't waste more money on outsourcing.
How to make a Facebook banner
1

Decide on the Facebook banner type

Think about what type of banner you need to design. Is it a Facebook cover, Facebook ad, Facebook post, profile picture, or event cover?

2

Choose the right Facebook banner size

Once you know what type of Facebook banner you want to create, you need to select the right size for it. For example, a Facebook ad doesn't have the same dimensions as a Facebook cover. In Bannersnack, you can find several banner sizes for Facebook that you can choose from, so pick the one you need from the list. With our editor, you can create stunning Facebook ads or a hard to miss Facebook header.

3

Choose the layout

Pick from one of our eye-catching Facebook banner templates, or start from scratch. You can choose a background for your banner from countless stock photos or videos available on the platform. If you already have a visual you wish to upload, simply drag and drop it onto the canvas.

4

Personalize your design

Upload visual assets, such as images, fonts, or shapes, write the text, and adjust them in our easy-to-use Facebook banner creator. You can also use the elements available in the platform's library. Mix the shapes, icons, arrows, or any other elements with the right colors and an irresistible copy.

5

Add movement to your banner

Animated banners attract more attention, and with our editor, you can easily turn a static banner into an animated one in a single click. Take control over all the layers and build animations from scratch. You can also use predefined animations and transitions from the editor.

6

Download and share

Once you're happy with the final result, download it in the format you need: JPG or PNG for static banners, GIF or MP4 for animated or video banners. Then, share your Facebook banner online and dazzle your audience.
Design Smashing Facebook Images and Boost Your Social Media Performance
There are many ways in which you can use our Facebook image maker. Use it for FB timeline covers, post images, event covers or even thumbnail images. You can also use it for other social media outlets.