Bannersnack Features
An all in one design platform that offers powerful & professional features.
Maximize your productivity with less effort.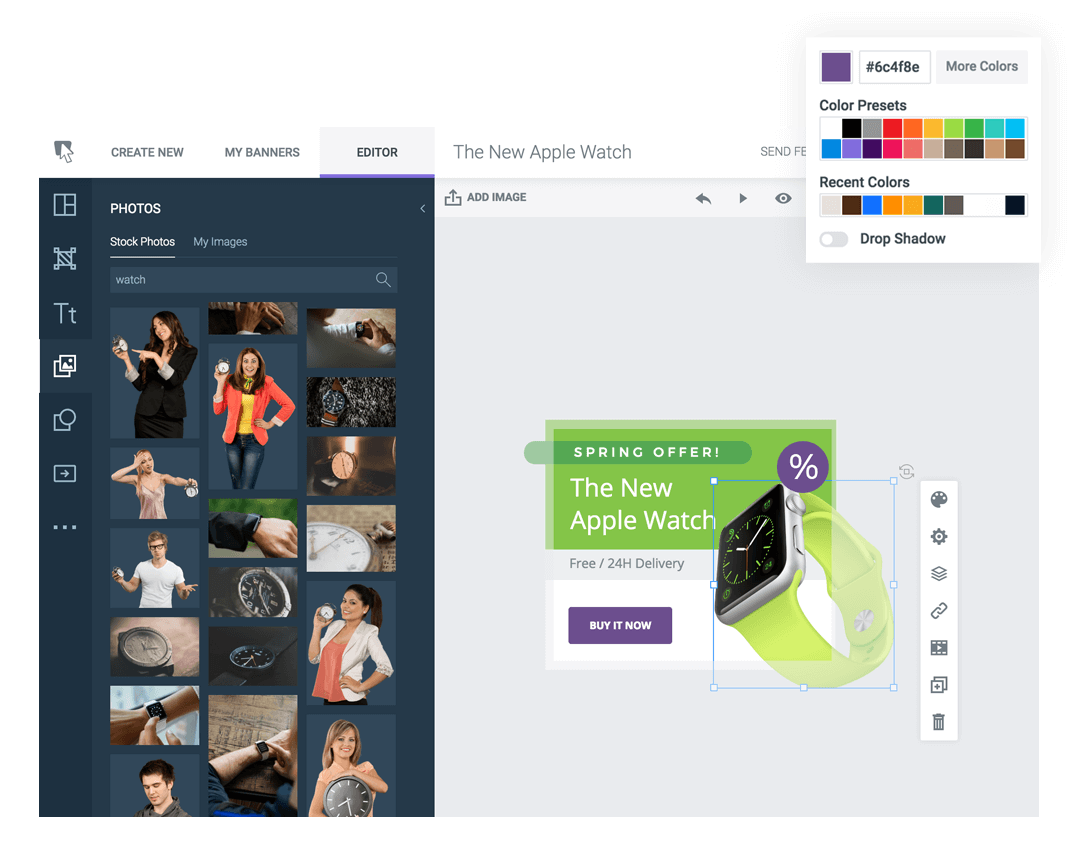 Easy to use, drag and drop banner maker
Create stunning banners within minutes. Drag and drop images, text buttons, and other visuals to create your perfect banner. The banners are compatible with all major ad networks.
►

Watch video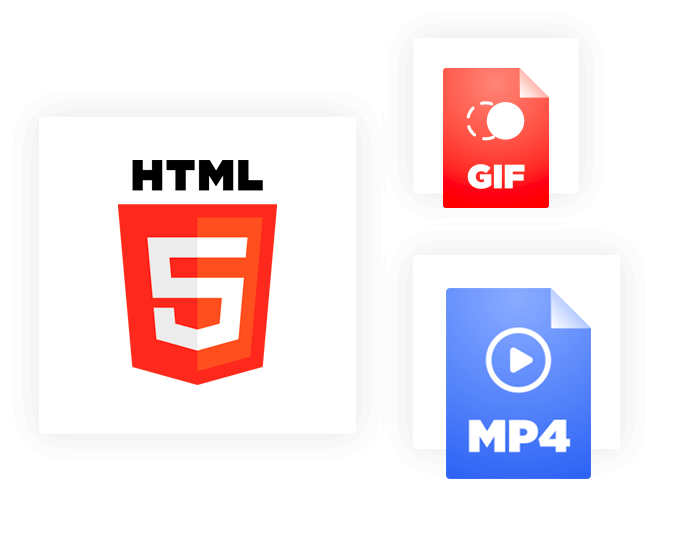 Animated or static HTML5 banners. We've got you covered
Start from scratch or choose one of the many professional templates created by designers and optimized by marketers. Make your banner stand out by adding animations, interactive elements, and powerful Call-To-Actions.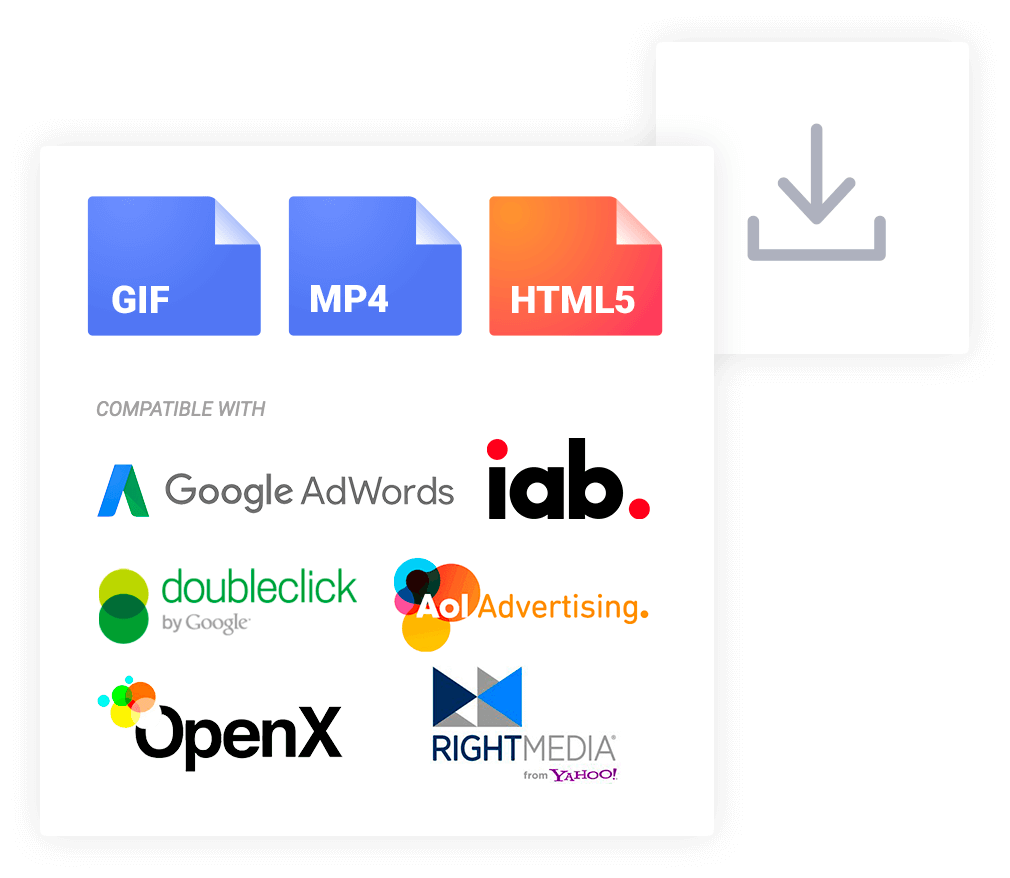 Download in HTML5, JPG, GIF, PNG or MP4. Works with all Ad Networks
Once you've created your banner, you can download it in the most popular formats. You can also embed it using our latest Smart Embed feature.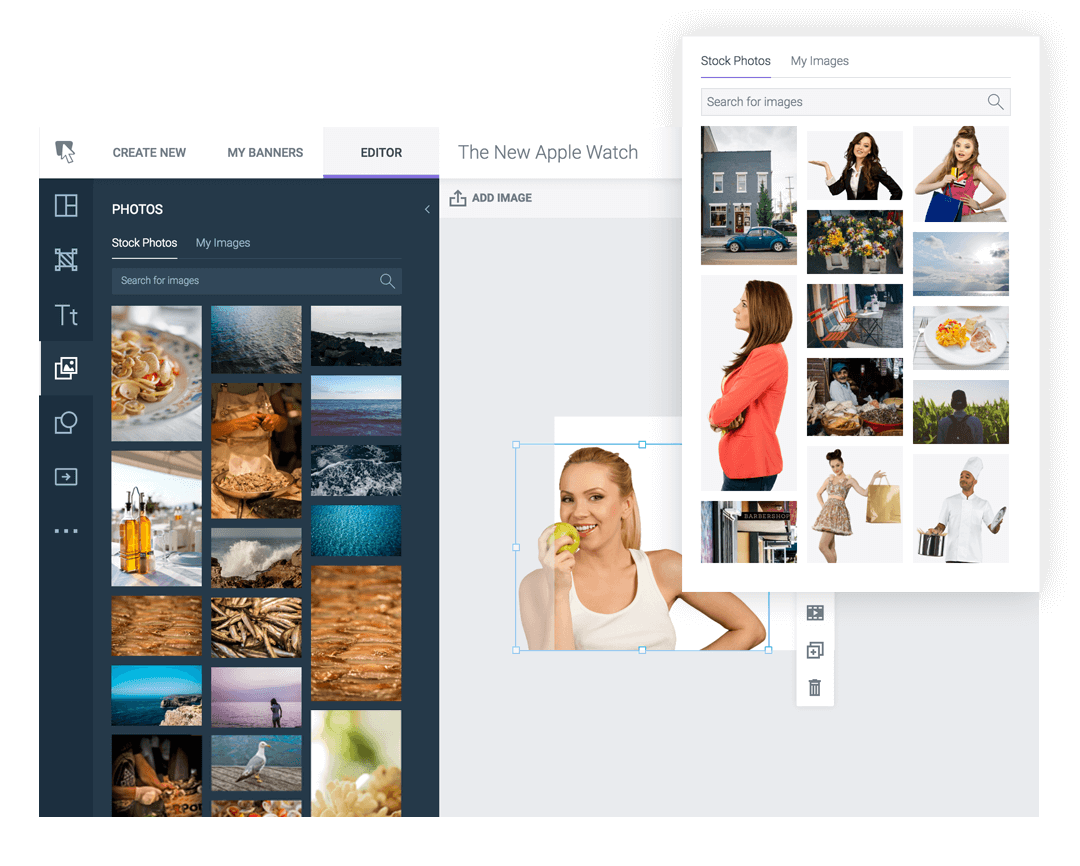 Use your own images or use the included Free Stock Photo Collections
We all know that banner ads featuring images of people perform better. Use professional photos directly from our stock or upload your own. We also did the hard work and added the images with transparent backgrounds.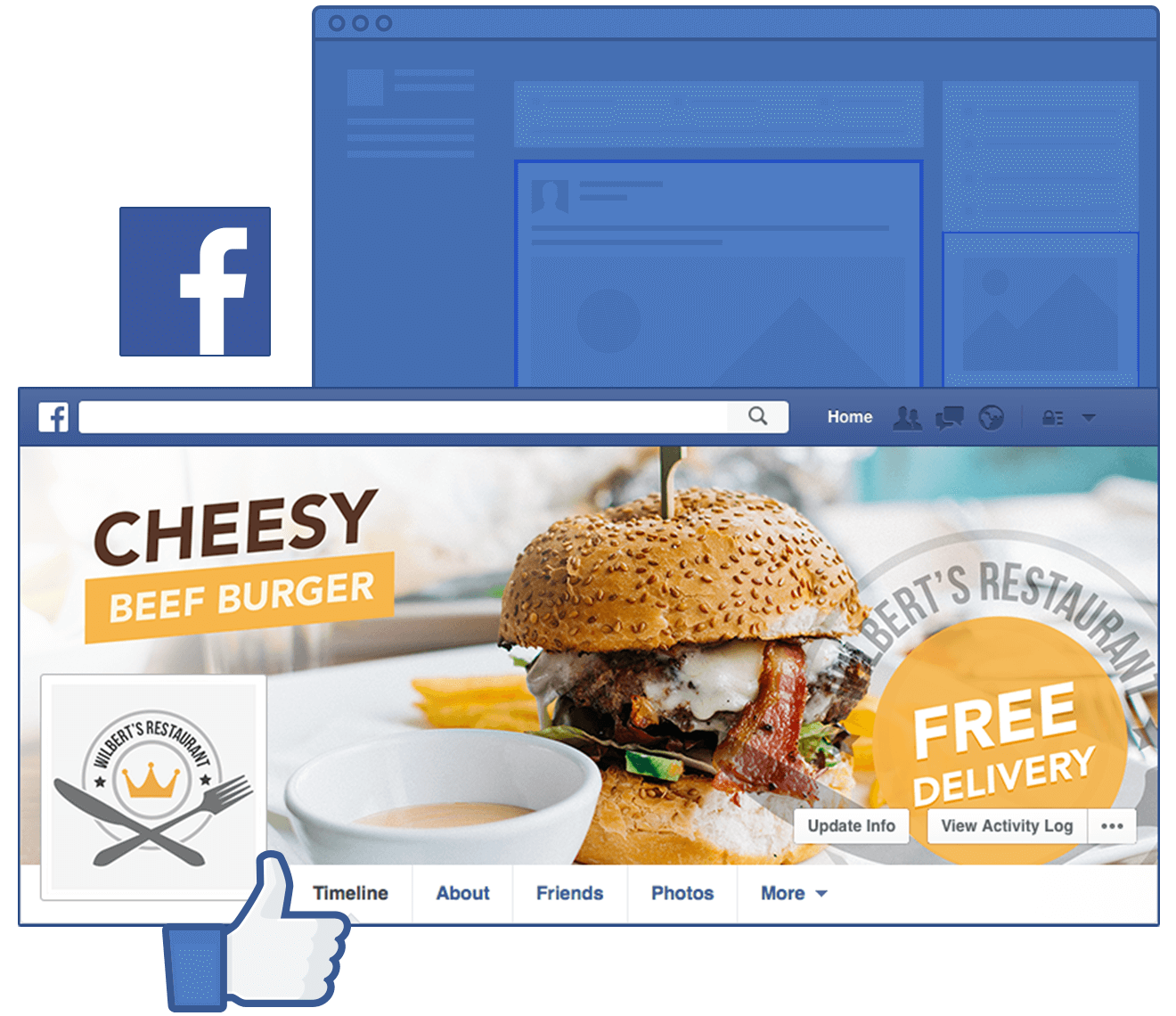 Social media posts and Facebook Ads? It's easier now with Bannersnack!
Create ads and shareable visuals for Facebook, Twitter, Youtube, IAB, Pinterest or LinkedIn.
Engage more people and grow your online business by making high quality, professional banners. Start now and create your first banners for free!
Design a facebook cover
Stats, demographic data and useful insights about your banners with Bannersnack Analytics
More about Analytics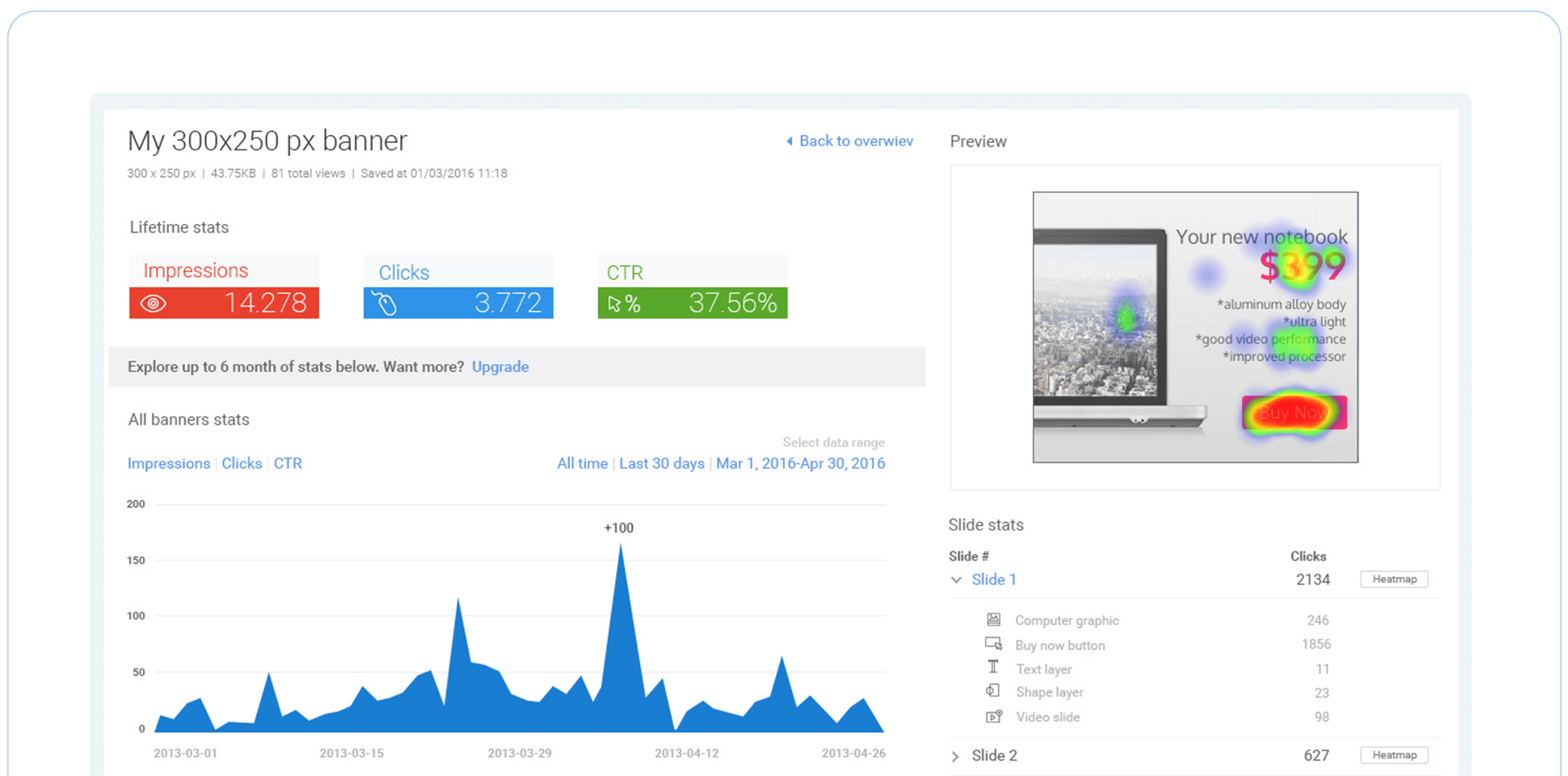 High Quality ready-made banner designs
and templates to start with
It's not always easy being creative. That's why we have hundreds of free templates you can use for your banners. Compatible with all major ad networks including Google Adwords, iab, Facebook or Twitter.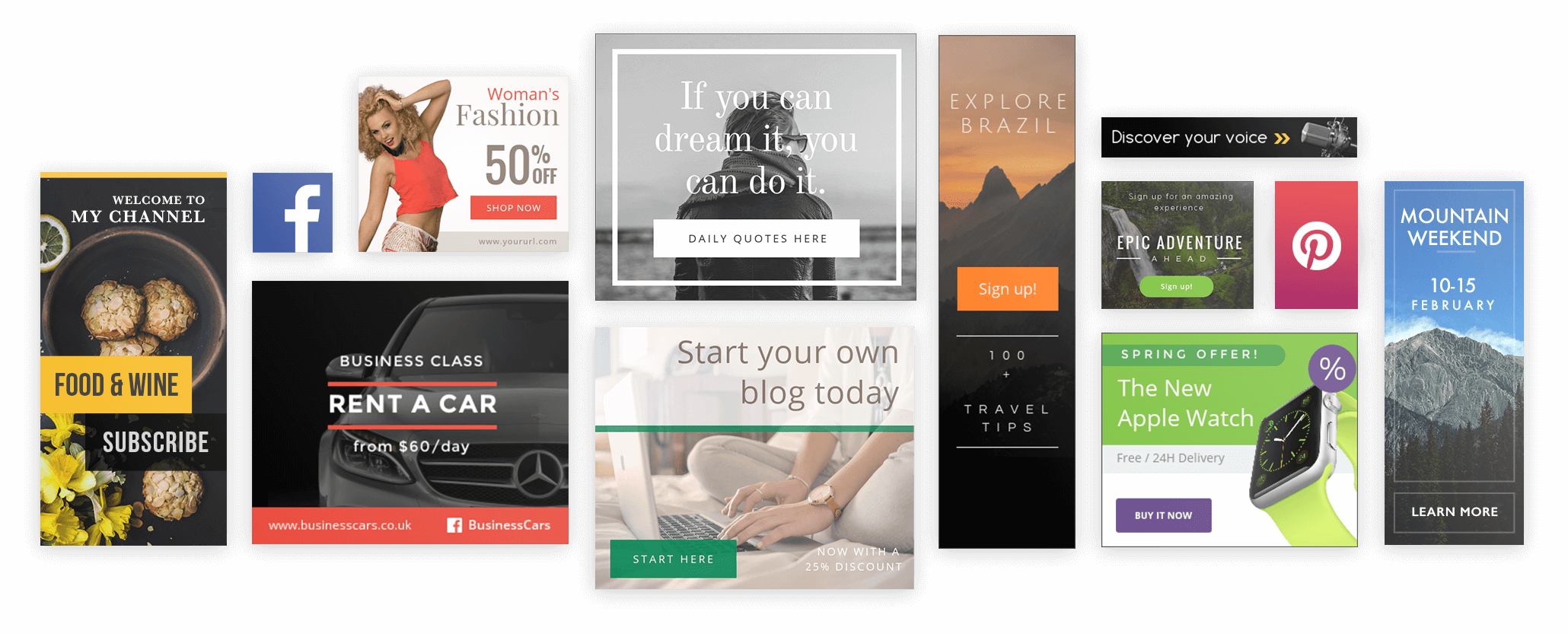 And many more awesome features
Browse through this list to learn more about how you can improve your marketing with Bannersnack.
Professional design tool
An easy to use and professional banner editor.
Timeline for animations
Create and adjust complex animations with ease and precision.
HTML5, GIF, PNG, JPG, MP4
Use and export your banners in multiple formats.
Create your own GIF
Upload your images and convert them to a GIF file.
Click tracking with Heatmap
See how your customers interact with your banners.
Google Fonts, Popular & Free
Use any of our free and eye-catching font styles.
Create Unlimited Banners
Create a banner set for every marketing campaign.
Buttons, Badges and Cliparts
They come in many shapes and sizes, choose the right one.
Team Accounts
Be more productive by sharing your workload with others.
Banner Generator
Create full sets of static or animated banners, all at once.
Embed Video And Custom Code
Make your banner stand out by adding a video.
Learning Center and Support
Get informed and stay sharp, learn the best practices.