Make your slideshows stand out and inspire
Use our simple and intuitive visual interface to animate your slideshows. Animate your elements, add smooth transitions between slides, and give your slideshow a more professional look. No coding skills required, just simply drag and drop your pictures or visuals into our slideshow maker.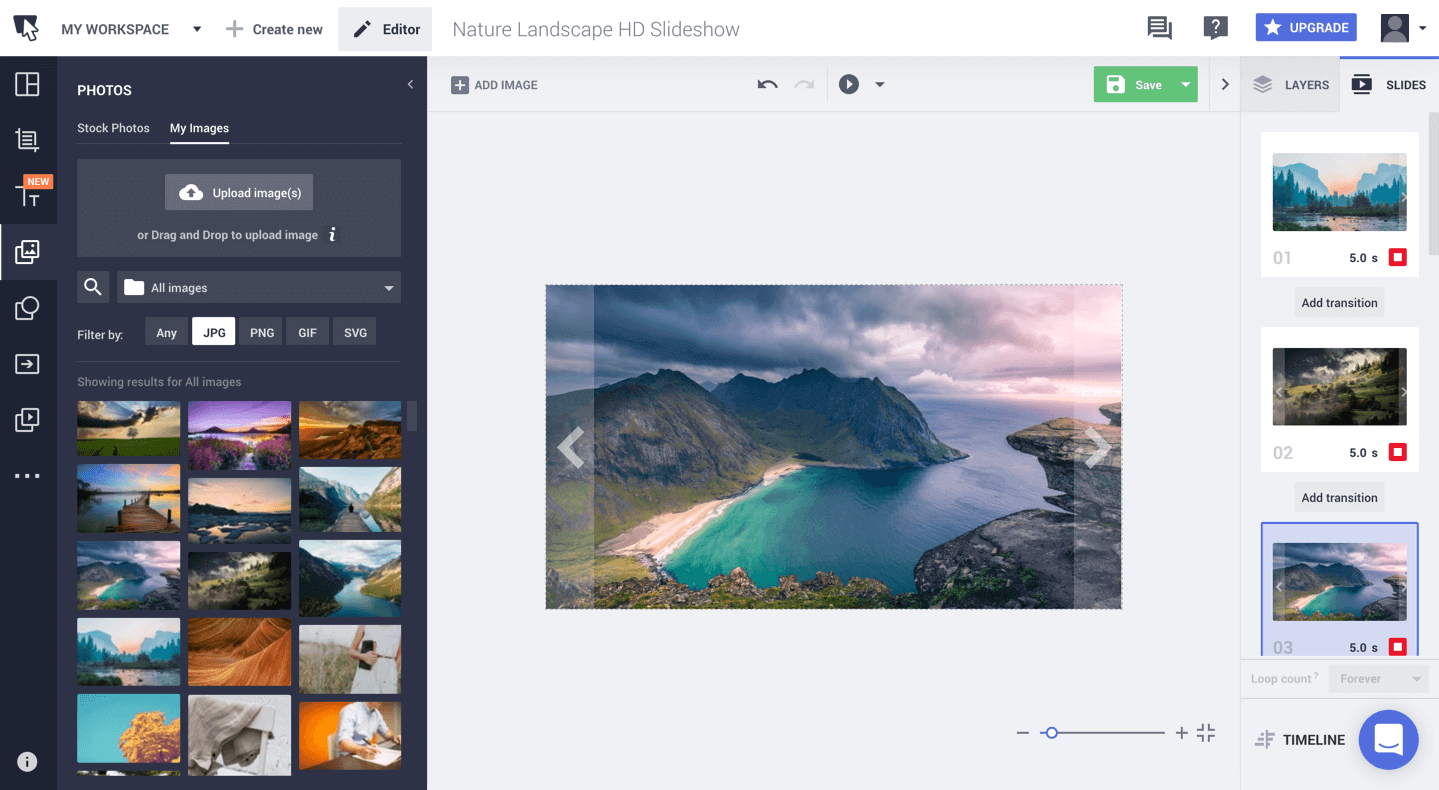 How to make a slideshow
1

The right size is the key

With Bannersnack's free photo slideshow maker, you already have a preset size. Therefore, the slideshow size will fit your website or your blog perfectly and will nicely complement it. However, if you're not pleased with the size available in the app, you can easily create your custom slideshow size.

2

Select a template or a blank canvas

To lower the creation time of a slideshow, choose to start with a template. Our picture slideshow maker has professional templates created by our designers and ready to be used for your needs. If you are not pressed by time, you can always choose to start with a blank canvas and upload your own photos.

3

Personalize the slideshow

You can customize each photo from your slideshow using our photo slideshow maker. This is the part where you can let your imagination bloom. The Elements library is ready to explore, and it's where you can find stock photos and videos, illustrations, icons, shapes, buttons, and clipping masks for your visual elements. Our slideshow creator offers you the chance to insert audio for all the slideshow presentations. You can write text using our preset typography feature, or if your brand has a font, you can import it and use it for all the slides.

4

Add smooth transitions

A slideshow is nothing without adding smooth transitions between slides. The Bannersnack slideshow software has the Magic Animator feature that allows you to choose transitions such as bounce, hit, drop, alpha, and many more. You can choose to add the same transition to all the slides or have fun making the slideshow unpredictable by selecting different ones.

5

Download the slideshow

After you create an online slideshow with Bannersnack, you are ready to download it. Download your work in MP4 format, and you are done. Exporting your slideshow to MP4 video format makes it easier for you to upload it on social media platforms such as Facebook or YouTube. You can also choose to embed it on your website and blog.
Try our slideshow creator for free
Just upload your PNG, JPG or JPEG photos to create beautiful photo slideshows, image sliders or photo albums for your website, blog or business.