Create amazing visuals faster than ever
Have you ever dreamed about an easy-to-use, intuitive photo editing software to create your YouTube channel art? Bannersnack might be just what you need! Hundreds of free stock photos, shapes, and text presets are waiting for you!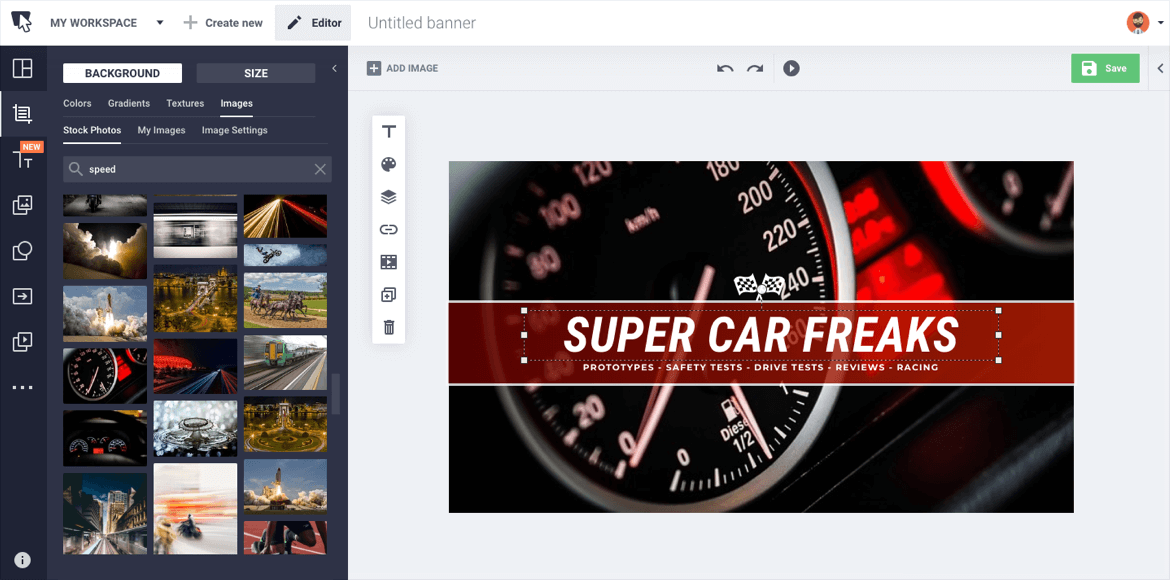 All-in-one social media banner maker
Be consistent across all social media platforms! Now you can use Bannersnack to create great looking visuals for all your social accounts: everything from headers and channel art to banners for advertising.
Design your own
YouTube video thumbnails
Increase the click-through rate of your YouTube videos with a well-crafted video thumbnail. Turn screenshots into click bait.
Twitter headers
Make your brand stand out on Twitter with a great looking cover. Design your own Twitter banner or start from one of our templates.
Instagram banners and posts
Turn your average photos into works of art worthy of being displayed on Instagram, or create banner ads for your campaigns.
Facebook banner ads
Easily create banner ads for your Facebook campaigns. Test different ideas and see what your target audience responds to.
Facebook timeline covers
Show off your personality with the perfect timeline cover. We have lots of examples to inspire you. Start your own design now.
Facebook event covers
Create amazing looking covers for your Facebook event pages and enjoy watching the number of participants grow.
Create a cool YouTube banner with Bannersnack
Why Bannersnack ?
Our app features hundreds of templates and presets to help you focus on what matters the most: your creativity!

The drag-and-drop photo editor is really user-friendly and fun to experiment with.

Fully flexible: you can upload your own fonts, images, and even the .svg files you need to create your personalized YouTube cover photo.
Tips on how to create the best Twitter banner
A great banner can boost your awareness and make your customers notice you. To create the best Twitter banner, focus on using fonts and colors that are relevant to your brand.

You can go for an illustration, a picture or a text preset that defines your company. Don't be afraid to experiment with overlays, borders, and fonts! With Bannersnack, it's never been easier to create the perfect Twitter header!
How to make a YouTube banner
1

Choose the YouTube banner size

The YouTube banner size is 2560 x 1440 pixels, but you don't need to remember this. That's because, in Bannersnack, you already have this preset size available, so all you need to do is log into your account and search for the YouTube Channel Cover. Select the YouTube channel art size, and you're good to go.

2

Choose a template or create your own

Don't know where to start? We've got you covered. Check out our collection of YouTube banner templates created for different industries such as health, food, automotive, software and technology, fashion and makeup, and many more. You can choose the one which best fits your needs and start customizing it to your desire, or if you feel inspired, you can create your channel cover starting from a blank canvas.

3

Start customizing your banner

Customize your YouTube banner size template, starting with the right background. You can go with a solid color or a gradient one if you want to make something simple. Choose from the variety of images we have in our stock library, or you can add your images. Then, add the text using the colors and fonts you want. If you have a font specially designed for your brand, you can import it and use it for all your creations. Make sure you add in your logo and brand name. Be as creative as you can be to draw more attention. When designing your YouTube banner, don't forget about the YouTube cover photo size minimum safe area for text and logos, which is 1546 x 423 pixels.

4

Download your YouTube cover photo

You're just a few clicks away from having one of the best YouTube Channel covers out there. Just export it as a PNG or JPG and choose the desired quality. You can select the quality of the JPG file, which ranges from the best quality and larger file size to low quality and smallest file size. Pick whichever suits your needs, but keep in mind that the YouTube cover photo size is large therefore, higher quality is better. Then simply upload it to your channel.
Create Your Best YouTube Art
Our online banner creator is designed to make the creation of new visuals as smooth and as fast as possible. It's a great tool for both marketers and designers and we have a lot of free resources to help you out. Get started today and discover our templates, stock images, shapes and clip arts.