A free invitation maker available for everyone
Feeling creative but don't have time to learn a new design software? Forget about complicated workflows and try our easy to use online design tool.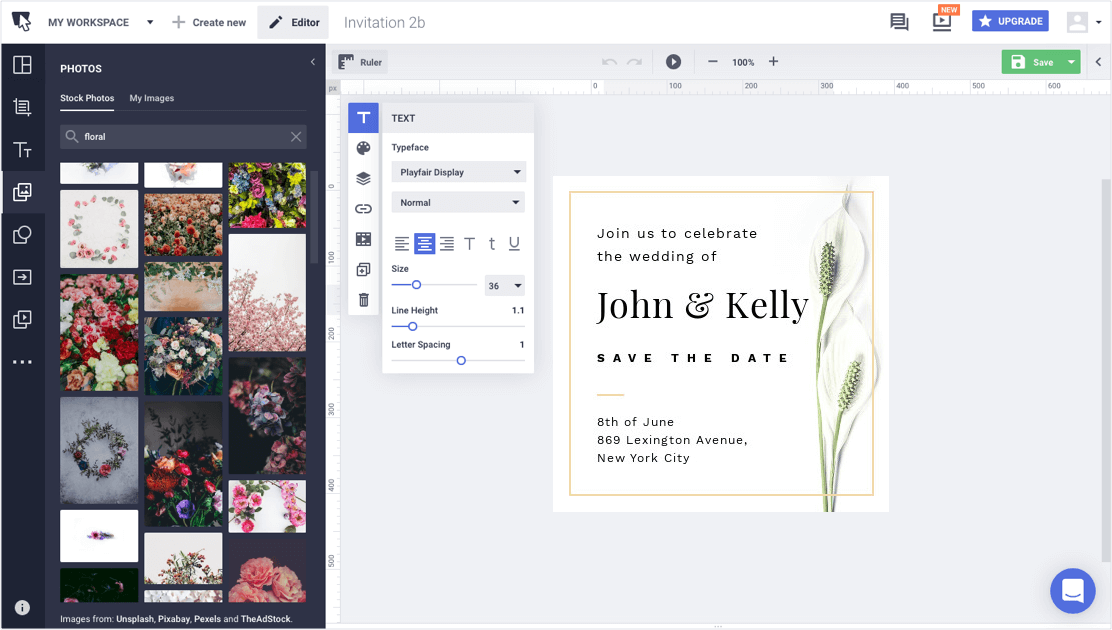 How to create your own invitations
Choose a template or start from scratch

If you want to be inspired, we have hundreds of free invitation templates at your disposal, but if you're feeling creative you can create your own design!

Edit the texts, fonts or colors

Choose some colors, fonts, and images that match the theme of the event to amaze your guests and make them want to be there!

Once you are happy with your design, you can hit save to make sure all your updates are there. Don't worry; you can still edit your invitation after saving if needed.

To have your invitations ready, download the finished design in printable PDF format and print it yourself or take it to a copy center.
Creative invitations for any event
Create and send online or printed invitations with our simple design tool. Here's a list of the most popular invitations our users are creating.
Create an invitation
Bridal shower invitations
Throwing a bridal shower? Get creative with online DIY invitations and send them out to your best friends!
Birthday party invitations
Have the best surprise party and invite everyone you know with beautiful custom invitations. It's easier then you think.
Engagement invitations
Engagement invitations have never been this cool! Get a template and create see for yourself!
Wedding Invitations
Your wedding is about you, so don't be afraid to get creative and design the beautiful wedding invitations you deserve.
Party Invitations
Let's get this party started with a set of cool invitations made by you. Create personalized invitations for free with our online tool.
Graduation Invitations
Congratulations on your graduation! Now it's the time to celebrate! Start by making your own graduation party invitations.
Start Creating Your Own Invitations Today
Get the party started with the most creative invitations, designed by you! Try our online invitations maker and unleash your creativity!