Design HTML5 Banners For Your Advertising Campaigns
Create professional static or animated banners, generate full display banner sets in one session. You can use Bannersnack for HTML5 banner production or even for banners for outdoor use: roll up banners, hanging banners, pole banners, window banners and more.
Create custom banner
Our easy-to-use Banner Generator makes banner production completely effortless
Creating professional banner sets shouldn't take you hours upon hours of work. We made it our job to make banner production as streamlined as possible. All that can be done now with an easy-to-use banner generator and editor.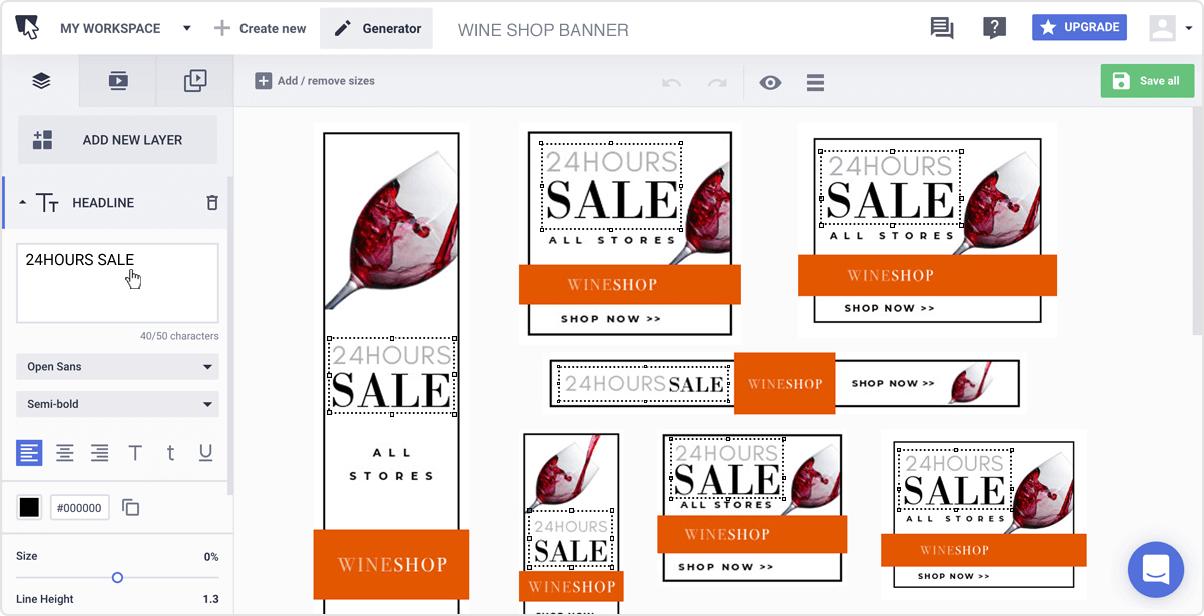 Great features make banner production a breeze
Bannersnack is uniquely equipped for the specific task of creating banners on a large scale. Countless hours have been spent to make banner production as effortless as possible for you.
More features
Shape library
Add vectorial images to ensure your banners scale properly on any size.
Beautiful typography
Upload your own fonts and then convert them into scalable SVG format.
Add personal fonts
Make sure your branding is consistent across all mediums by using the same font.
Banner generator
Spend the same hours generating full banner sets for your marketing campaigns.
Template library
There are hundreds of templates for the most popular industries. Choose any one.
Team collaboration
Improve team collaboration and communication by switching to a team account.
Streamline your banner production with Bannersnack
With amazing features like the Magic Animator, Banner Generator and Workspaces, we make sure that design and collaboration on banner design is as smooth as possible. Save time on banner production with Bannersnack.