Effortlessly achieving impressive results in less time
Bannersnack helps a travel advertising industry leader take on twice the workload with increased productivity and better results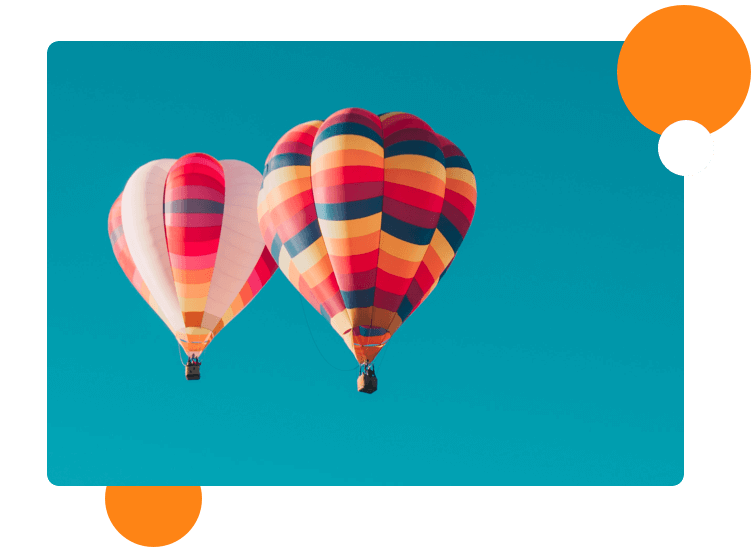 A travel advertising industry leader that helps travel companies drive travelers to book their dream destinations.
What a travel advertising company achieved using Bannersnack:
| | | |
| --- | --- | --- |
| 13% | 8% | 100% |
| Higher Click Through Rate | More conversions | Increase in speed of creating design sets |
A leading travel advertising company that has chosen to be anonymous gives great insight into how Bannersnack has been able to resolve their pain points. But first, a little bit of context. This travel advertising company provides advertising services such as META, SEM, display, video, and social media ads for hotels, attractions, and tourism boards all across the world. With offices around the world in the United States, Singapore, Ireland, France, and more, they create advertising campaigns for some of the world's top travel companies. What makes them unique, however, is the fact that they also provide free ad design services to all of their customers. As a result, they have a dedicated team of 4 designers who work in Bannersnack. "Only our designers have access to Bannersnack right now. We use Bannersnack's preview links to share designs with the account managers and our customers for proofing purposes," explains the Creative Manager.
As a loyal customer since February 2017, the design team has seen a significant improvement in overall workflow and productivity in creating ad designs for their impressive and diverse customer base.
THE CHALLENGE
Keeping up with the way the business continues to scale through a productive design workflow
Before using Bannersnack, the design team was creating ad designs in Photoshop. The problem? It was taking each designer about 45 minutes to an hour to create one design set. "It obviously wasn't efficient for us and with how quickly our business was scaling, we just needed to find a better way to create designs. Besides that, static ads in Photoshop weren't up to date with updated standard practices and we wanted to stay ahead by offering HTML5 to our customers," says the Creative Manager.
Because of how quickly the business was scaling, they needed a solution to help the design team take on more work without having to hire lots of additional headcount.
We found that the animated HTML5 ads made in Bannersnack had a 13% higher click-through rate and also resulted in 8% more conversions. For us, this translates into better results and service for our customers.
Creative Manager at a travel advertising company
THE SOLUTION
Taking on twice the workload with increased productivity and collaboration
And that's where Bannersnack comes in. After a quick search on Google, the team tested Bannersnack against a few other tools just to see what the workflow was like and the ease of building designs.
"Bannersnack has so many things that we love, such as animation timeline feature where you can easily adjust the length or speed, being able to white label our preview links, the ability to quickly and efficiently update our ad copy and images across all sizes, and, of course, the amazing customer service that Bannersnack offers us," says the Creative Manager. "But the design generator has to be the feature we rely on most. It's amazing because we're able to quickly update the copy and images across all of the sizes and formats. I can't even tell you how fast that is compared to going into Photoshop to manually resize every single design individually! Honestly, we still go out and test other services but Bannersnack consistently is the winner mainly because of the timeline feature and the ability to create designs in sets so quickly. There are just so many possibilities."
With the business continuously scaling, it's important for the team to be able to add on designers when it's needed, without too much hassle in the onboarding process. "What's also great about Bannersnack is that it makes it super easy to onboard newly hired designers. Although it's not a tool that you're taught to use in school, the entire user interface is so easy to understand that it makes it easy to hit the ground running. As a manager, it's especially helpful to be able to add a new designer in Bannersnack and then check on how they're progressing in the workflow they have," says the Creative Manager.
But it doesn't stop there. White-labeled share links are an essential part of integrating their customer into the design process for feedback that doesn't get buried in a long series of back and forth emails. Since the team creates designs for their customers at such a wide scale, they have worked out a specific workflow to make sure that each customer's brand is well represented. The design team creates templates for each customer and then personalizes it with the brand's color palette, fonts, and other elements.
THE RESULTS
Higher click-through rate, more conversions, and saving time and money
With pain points solved, the design team is now able to create engaging, animated HTML5 ads in 15 to 30 minutes. That means they are able to take on twice the amount of work that they were doing previously. Yes, you read that right. Twice the workload without being overwhelmed. This aspect is especially important because their ad design requests have increased by 193%, so the ability to take on more work efficiently was a top priority for them. As a result, they only had to add three more designers to the team as opposed to six designers that would have been needed if they had continued working in Photoshop.
"We have saved 2-4 hours a day per designer because of switching to Bannersnack. And in terms of design success, we carried out an A/B test comparing the animated HTML5 ads that we make in Bannersnack compared to the old, static jpeg ads we were making before in Photoshop. From that A/B test result, we found that the animated HTML5 ads made in Bannersnack had a 13% higher click through rate and also resulted in 8% more conversions. For us, this translates into better results and service for our customers," says the Creative Manager. "Beyond that, from a cost standpoint, we saved over $100,000 because we didn't have to hire half as many designers."
While these results are the core of what makes Bannersnack a great creative solution, one of the aspects we focus on as a company is serving our customers quickly and kindly. This company's Creative Manager says it best: "I can't praise your live chat team enough! They're just so fast to respond, which helps us troubleshoot problems quickly. They also helped connect us with the product managers so that we could share ideas for new features directly with them. At this point, I feel like I personally know some of them because I talk to them through live chat so much. I love your support team!"
At the end of the day, our holistic approach of the customer experience is what we consistently work towards.
Get started with Bannersnack
Contact us for a quick demo or start your free 7 day trial
Download a travel advertising company's success story