How to use our thumbnail maker in 4 easy steps
Our YouTube thumbnail maker is so easy to use that anyone with little-to-no design experience can come out with an amazing, professional looking thumbnail in no time. Here's how to make a YouTube thumbnail!
You can start from scratch when creating your thumbnail, but why do that when you can start from one of our gorgeous YouTube thumbnail templates?

Once you have your template or main design, you need to customize it. Everything from font to images to elements is editable. Every template is 100% customizable!

Once you've edited your thumbnail to your liking, it's time to save and download your work. Hit the save button, then download your work as a JPG or PNG. It's that easy!

Now it's time to upload your custom video thumbnail to YouTube. At the bottom of the upload page, you'll see an "upload thumbnail" button. Click on that, add your thumbnail and save!
The only YouTube thumbnail creator you need
We have everything from templates, font presets, stock images, textures, elements and more! Use Bannersnack for all your video thumbnail needs, and not only! You can use Bannersnack for virtually anything. So why not sign up today?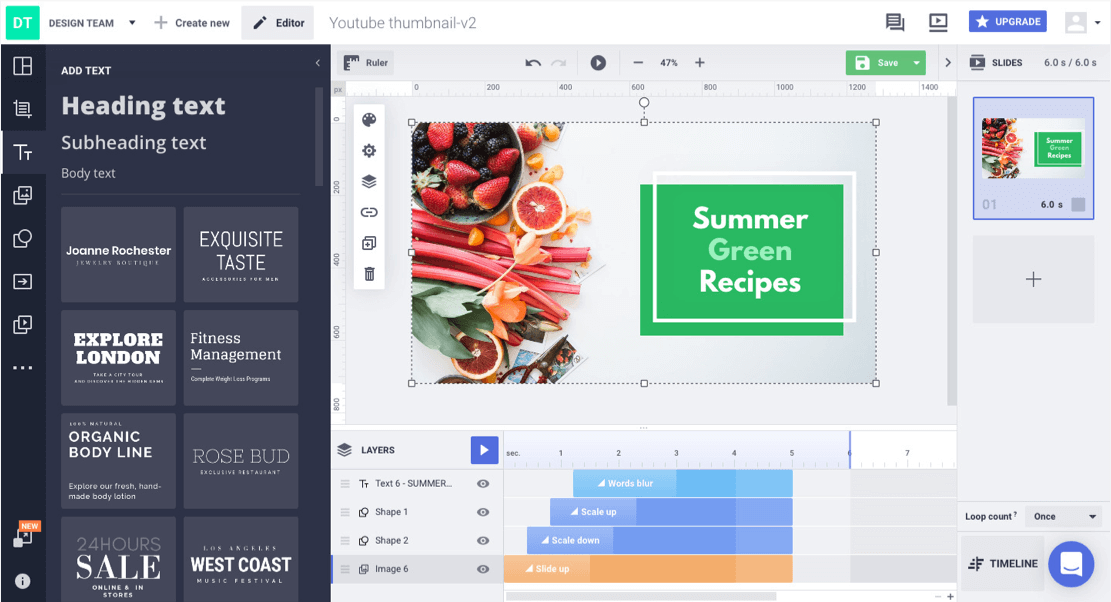 Start making YouTube thumbnails now
Now that you have all the information and skills to create the perfect thumbnail, what are you waiting for? Use our YouTube thumbnail maker and get to designing! Your fans are waiting for your next awesome video! Don't delay by spending too much time editing your thumbnail with other programs. Use Bannersnack and be done in minutes!