Create visuals that leave a lasting impression on prospects
Every sale starts with a great story and stories lead to emotions. What's more, is that the decision of purchasing a home is essentially based on what people feel. Bannersnack offers you everything you need to market your properties and attract more listing opportunities.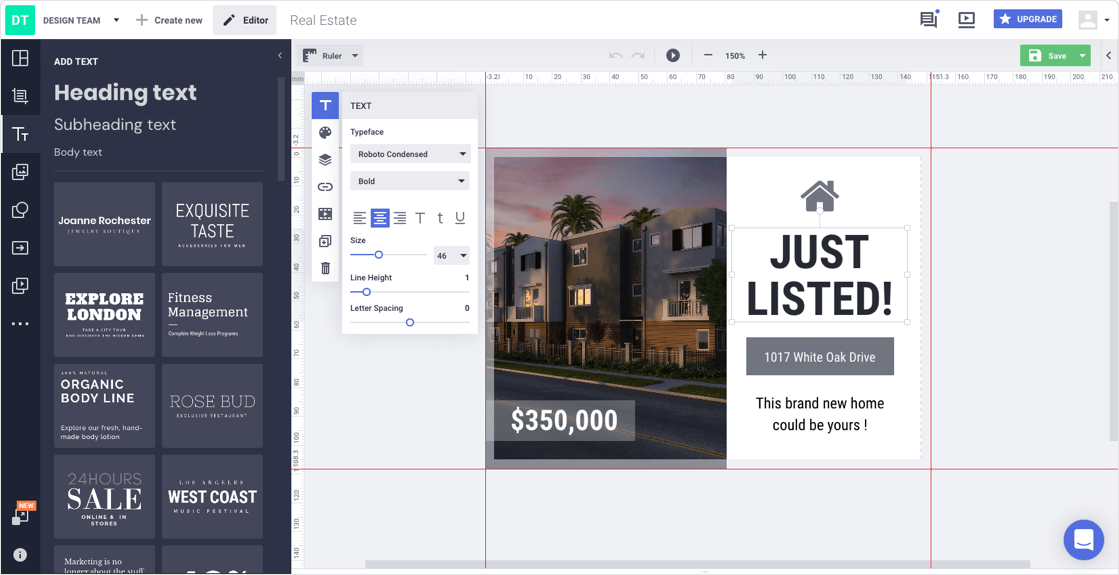 Tell your real estate story with Bannersnack
Designing real estate visuals for marketing campaigns is a piece of cake with Bannersnack. You can easily import your pictures of the properties, logo and brand colors in Bannersnack.
Easy to use drag and drop editor
We make it easy for you to design any type of visuals in just a few clicks. With our editor, you can drag and drop text, images, buttons, and clip arts to create stunning designs in minutes.
Thousands of templates
Whenever you need some inspiration, just get started with one of our professional templates created by designers and optimized by marketers. Customize them in just a few clicks with your own information.
Text presets
Start creating complex animations using HTML5 technology. The best thing about this feature is that you don't need any coding skills. Also, the digital ads are compatible with all major networks.
Generate 30+ sizes at once
Thanks to the Banner Generator, you can easily choose a different size for your design. Select between a display ad size, an Instagram story, or a postcard in seconds. Resize from one visual to another size or to 30+ different sizes at once.
A format for every need
Tell your story and explain the value you're offering to the buyers and sellers who need your expertise. On every important channel. Download your work as PDF, GIF, PNG, HTML5, MP4, and even AMP.
Stay on brand
Having consistent branded materials is so important for your credibility as a real estate professional. This is where Bannersnack comes in handy because you can upload your own font, logo, and other elements you need for your visuals.
Become the go-to professional realtor for the community
Every real estate professional has a story to tell. You only need the right tool that's going to help you complement your stories with attractive graphics. It's time to start building your own branding!