Cut through the marketing graphic design noise
Countless marketers and designers are battling for the same target audience you're after. We help you create visual materials that stand out by providing inspiration and templates ready-to-use.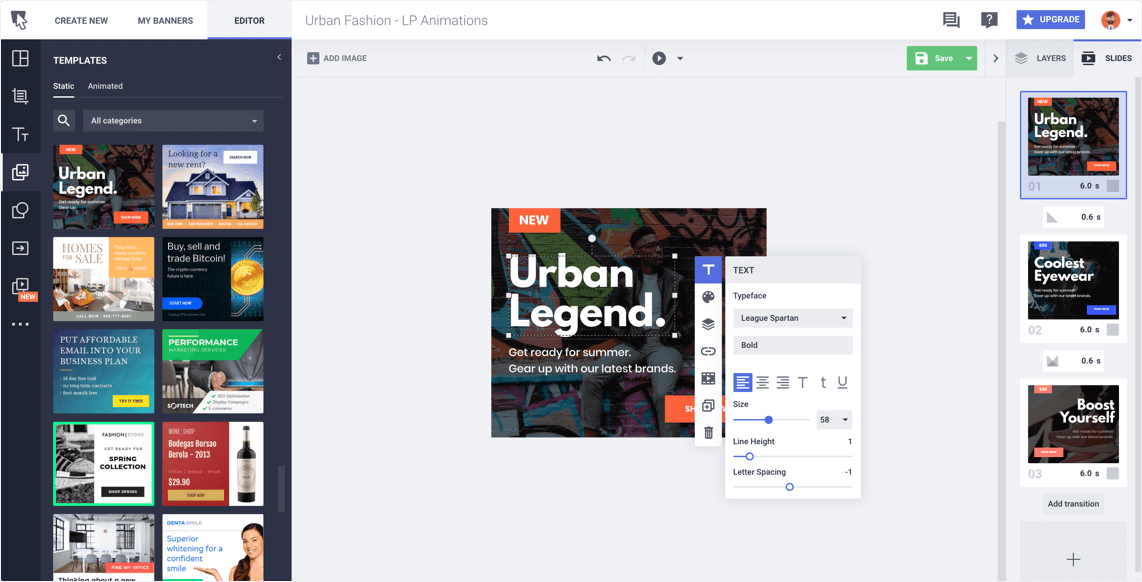 Why businesses choose us for their advertising design needs
In Bannersnack, inspiration is just one click away. Find the template that's right for you and then customize it with fonts, colors, photos, illustrations, shapes, or animations.

Access to high-quality images

You can't design an attractive banner design without using images that have the best quality. We have thousands of stock photos that you can choose from. Or you can simply upload your own.

Thanks to the Smart Resize feature, you can resize any banner design for multiple sizes in just one click. Your display and social media campaigns can be ready in just a few minutes.
Digital marketing design tips
Keep it simple
Simplicity is underrated. By keeping marketing design clean and simple, it's going to be much easier to get your message across in a much powerful way. A good example to think of is Apple's design.
Limit to using 1 or 2 fonts
Even though it can be tempting to use several fonts in one banner ad, ideally, you shouldn't use more than two. To tie it all together, you can try to find two fonts that are quite similar and can work well together.
Use contrasting colors
This is going to help you create a design that's easy to understand. The best case scenario is using dark text on a light background or vice versa.
Use different font sizes
Even when you use only one font, you can still emphasize a particular part of your message by playing with different font sizes. You can also use bold and italic to accentuate certain words.
Decide on a color palette
To figure out which colors work best with your branding, just use your business's logo as a starting point and go from there. In a banner ad, try not to use more than 2-3 hues.
Use white space
White space, which can be a solid color, not just white, is a strategy used to attract attention towards certain parts of the banner in order to make it more dynamic.
The role of graphic design in marketing
Potential customers will judge your company based on how your logo, website, blog, and social media posts look like in terms of design. Having a consistent and strategic visual brand identity is important so that your company looks credible in the consumers' eyes. From a marketing perspective, graphic design is key to establishing a powerful brand image that looks professionals and will help you stand out from the competition.
At the same time, visual content is much more easily remembered by consumers which will make it easy for you to make an impact. Based on design, people will also judge your business and decide whether you are trustworthy or not. That's why you need to make sure that you will make a great first impression from the moment potential customers see your first ad.
Creativity is essential in marketing
Creative marketing design is all about generating and executing original ideas in a unique way. This improves companies' chances of being remembered and allows them to outsmart the competition. Also, nowadays, marketing is not just about mastering the use of traditional channels but about innovating and figuring out new ways to reach an audience.
A creative marketer will also think about the customer experience end to end. This also means that, in most cases, creativity comes simply from understanding the consumers and their pain points. Ultimately, this can lead to creating campaigns that are extremely valuable in terms of revenue, loyalty, and advocacy. It all boils down to understanding the market you're trying to reach and determining what type of campaigns will be the most effective for your objectives.
Graphic design and marketing go hand in hand
Marketing design plays a huge role in branding so make sure that you build a strong visual identity for your business right from the beginning. Start using Bannersnack today and see how easy it is to create stunning banners.