Easy-to-use online editor
We the team here at Bannersnack worked hard on our product so you can work less! We created an incredibly simple and easy-to-use editor for you to create the most beautiful brochure and leaflet designs to use for your industry. Think of Bannersnack as your own personal leaflet maker.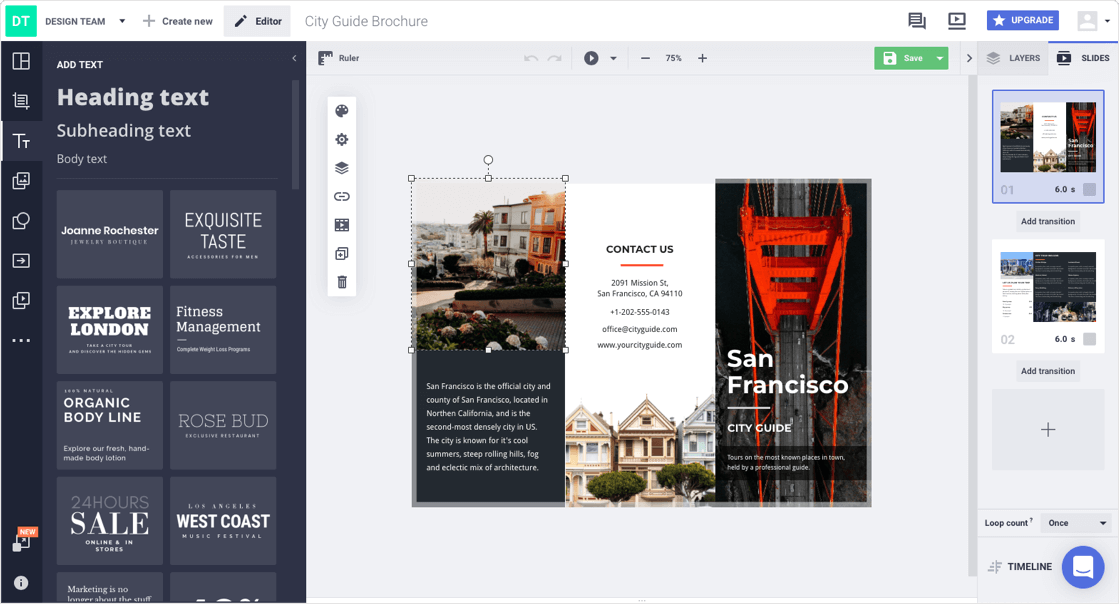 How to make a leaflet
Let your inner artist out by using our editor to create the perfect leaflet, flyer or brochure. Add a photo, some text, change the colors, add elements, and you'll be done in the blink of an eye!
There are a few different leaflet sizes, so make sure you use the size that you want. A few common leaflet sizes include A1: 1684x2384, A2: 1191x1684, A3: 842x1191, and A4: 595x842.

Choose a leaflet template that suits you best from our beautiful collection of flyer templates! We have something that will suit everyone, from big industries to small family-owned businesses.

Edit your leaflet template

Once you've chosen your pamphlet template, it's time to start editing the leaflet design. This is where you get in touch with your creative side and edit the colors, text, and elements of your leaflet.

Now that you're done editing your leaflet, it's time to download your masterpiece. Save your work and download it to your computer as a PDF file so that you can print it out in the highest quality possible.
Create a leaflet
Stand out from the crowd with fantastic leaflet design ideas! By using Bannersnack, you don't have to have years of experience in graphic design to have professional looking literature. Try it out now for free!