Professional custom labels that take minutes to create
Your label design should express in a professional manner what your brand is all about. That's why our professional free online label maker solution can help you make a label that will make your business stand out.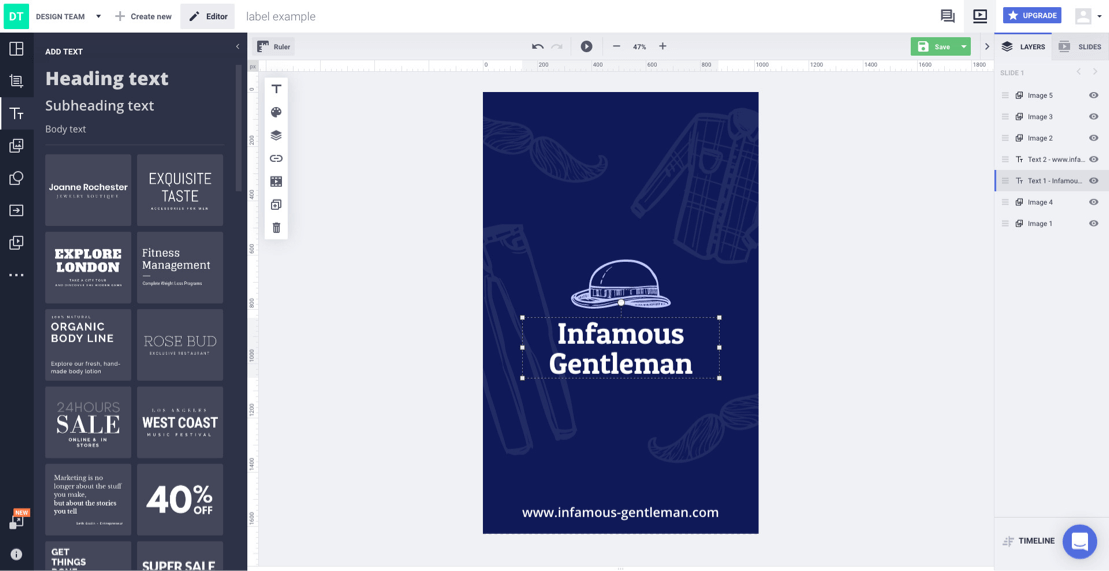 Why Bannersnack is the perfect label creator for you
No design experience needed
With plenty of ready-made templates to choose, we take the guesswork out of label design so you can focus on what's important.
Printable custom labels
One of the best things is that you can export your labels in high-quality JPG or PNG files and then print them professionally at the best quality.
Intuitive free label maker software
Label design shouldn't take hours. Thanks to our online design tool, you can drag and drop elements on a new canvas or personalize a template in just a few minutes.
How to create custom labels
1

Choose a dimension

Decide on what size you need for your design, whether it's a sticker, gift tag, return address, name, or clothing label.

2

Start with a label template

Or you can design a label from scratch, in case you already have something in mind.

3

Personalize it

This is the part where you customize the colors, fonts, images, and illustrations so that they match your brand

4

Export and print

Once you're done with the design, download it in JPG or PNG and then it's all ready for print.
Create your own custom labels
With our tool, it is extremely easy to create unique labels that are highlighted and impress them to your customers. Try also to see how quickly you can make a label that attracts attention