Create an animated banner in 3 easy steps
Bannersnack gives you the power to create html5 animation with no coding skills. Create an animated banner in 3 easy steps
Design from scratch using our professional HTML5 editor or start from a ready-made template. We provide the tools and the inspiration so you can create faster and better.

Move, fade, blur, slide, animate anything. Create intricate HTML5 animations for your banner ads using presets without any coding and technical skills.

You can use your animated banners for your advertising campaigns, compatible with all major ad networks, or you can simply embed them on your own website.
Go premium and unlock all the features
Drag and drop HTML5 editor
Now you can create HTML5 content without any coding skills! Use our intuitive, drag and drop editor.
Animated Facebook ads
Make animated Facebook ads in minutes! Export your work as mp4 and upload it to your ads account.
Popular fonts
Find all the most popular fonts in-app, or upload your own to make creative banners with only a few clicks.
Animated adverts
Advertise your business with animations that catch all eyes and convert more.
HTML5 animation effects
Smooth, one click HTML5 animations & transitions you can use anywhere online.
1000+ banner templates
You don't have to start from scratch, you can just edit our banner templates and make them your own.
Button styles & presets
Increase your banner ads click-through rate with stylish buttons. Edit them with a few clicks and place them anywhere!
Create timeline based animations
Animate your work without complicated tools; use our timeline animation tool.
500+ vector cliparts
Personalise your banners, social media designs, visuals or animations with cool predefined vector cliparts.
Bannersnack - Online HTML5 Banner Maker
Start creating elaborate animations using HTML5 technology. 100% online no other software required.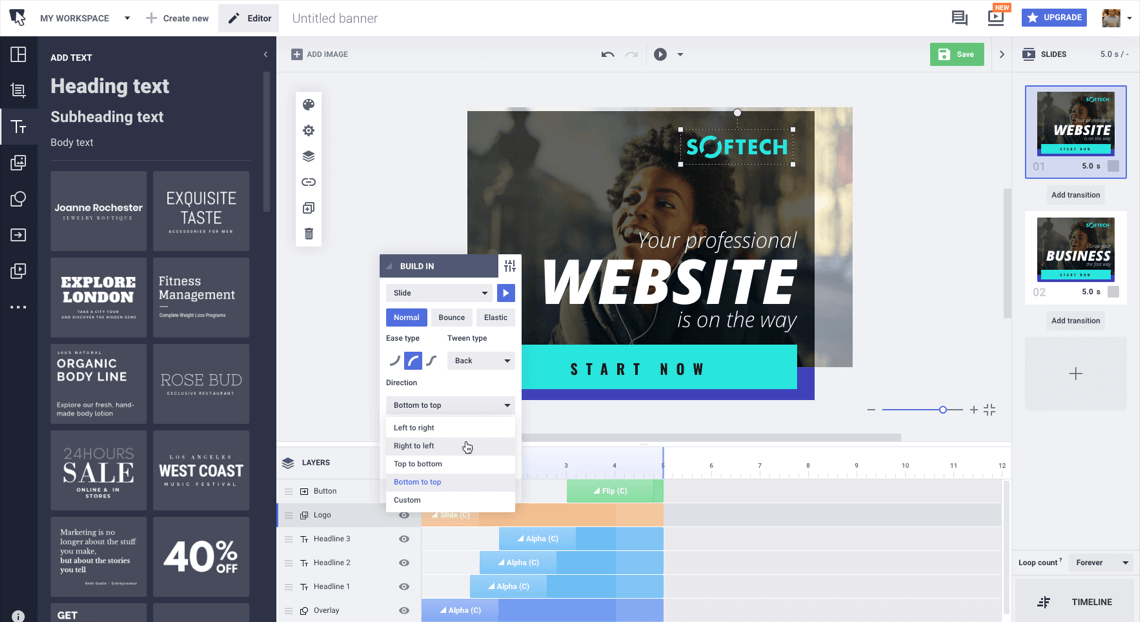 Animations for all your marketing campaigns
Animated Social Media Ads
When it comes to Social Media, animated content gets noticed faster. Animate your Social Media ads to get more engagement and a better CTR. Download your animations as MP4 to make them compatible with all major Social Media networks.
AMP HTML Ads
Download Google Ads compatible AMP/HTML animations to level-up your display ads campaigns in minutes! Use the fastest web format for better performing mobile ads.
Create HTML5 animated ads within minutes
Scale your work by using our banner generator to create entire sets of HTML5 ads. Save more time and get the perfect animated ads every time!