Build multiple banner ads within minutes
With the new Banner Generator, you can create ads for all the banner sizes you'll ever need. Try our online advertisement builder and save time by creating more banner ads sizes at once. It's easy, just choose the ads sizes, choose a template and personalize it your way!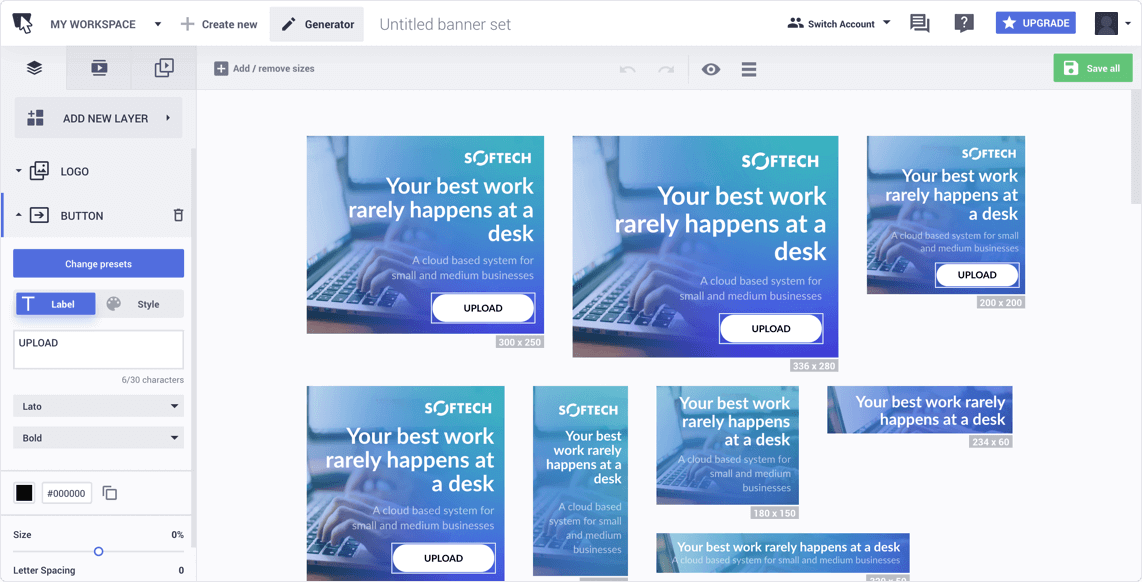 Tips and tricks for highly converting ads
If you want to achieve the best ROI for your online advertising campaigns, you need to have a great strategy. Keep an eye on the competition, test what works for you and keep in mind some of the most important industry best practices.
1

Always test multiple designs

You should always A/B test before you decide on the banner ads you would like to use. All target audiences are different and respond to different messages.

2

Context matters - choose where you put your ads

No matter how good your ad is, if it's seen by an indifferent audience, you won't get the expected results. Use the advanced targeting and retargeting features and optimize your ads.

3

Create visually appealing ads

People respond better to quality visuals, so it's important to create beautiful ads that stand out.

4

Use efficient call-to-actions

A great call-to-action can make the difference between a visitor and a client, so don't forget to add a relevant message to attract customers.
All the ads you'll ever need in one place
When time matters, you need a flexible tool that will help you save hours of work with its amazing features. Keep all your ads in one place and edit them anytime you need with our all-in-one free display ad builder!
Video ad builder
Looking for an inexpensive and easy-to-use tool to create video ads and animations? You are in the right place! With the new timeline feature, you can create animations faster than ever.
HTML5 banner builder
If you need to embed a HTML5 banner but you have no coding skills, don't worry! All you have to do is create your visual with our drag-and-drop editor and we'll take care of the rest for you.
Google ad builder
Meet all the Google Ads requirements and create highly efficient display ads with our Google display ad builder. Get one step ahead of your competition!
Facebook ad builder
Create brilliant static or animated Facebook ads and optimize them to get the best results ever. You'll never worry about not having enough visuals for your Facebook ads again.
Twitter ad builder
Experiment with all the social media ads and create sponsored tweets to meet your audience. Advertise on Twitter to get the best engagement rates!
Instagram Ad builder
Reach people where they spend most of their time: on their mobile phones. Create the best Instagram Ads and get ready to outdo your competition!
Start Advertising Your Business Today
Display advertising does not have to be complicated. Our HTML5 ad builder helps you simplify your workflow and get results faster!