Rich Media Ads - Impress. Engage. Convert.
Use the immense power of the HTML5 technology to create spectacular interactive ads. Code-free.
Create your own rich media ad
Create interactive rich media ads to promote your business online
Bannersnack is an easy-to-use, web-based design platform with a huge stock of superb ready-made templates, images, clip-arts and popular fonts. Integrate video or audio media and create a state-of-the-art banner ad.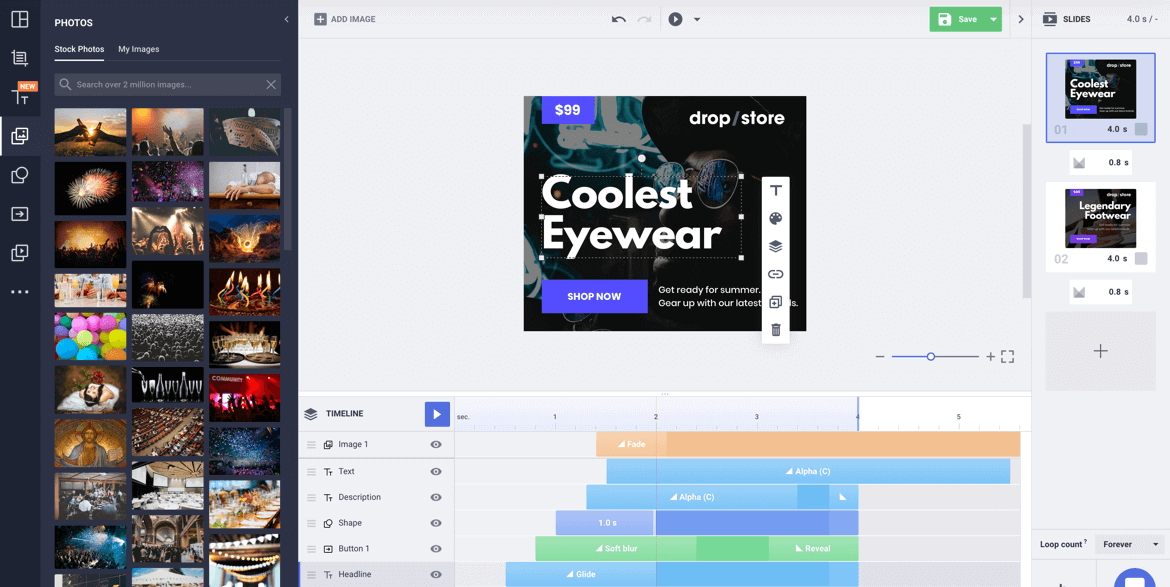 Design a rich media banner in minutes
But, beware! Creating cool rich media advertisements can be addictive. With Bannersnack, designing interactive banners and animating them is a gripping experience. Here is how you can create an impressive rich media ad in a few easy steps:
Set up the basics
Choose a size from our preset size panels or your own custom size. Then, set your background. You can either select one from our gallery (image, color, texture) or upload your own image.
Design elements
We offer an abundance of design elements for you to build your ad: beautiful images, clip-arts, buttons and popular fonts.
Embed video or audio
Add your video or audio media to convey your message to your audience. Simply embed the code in the banner and adjust its placement.
Animate and Interact
Add animation effects and set timings for each one of your elements using our highly intuitive and easy-to-use Timeline feature. Or, take a shortcut and use our powerful Magic Animator tool to make your ad come to life.
Export your banner
Save and download your banner! With Bannersnack you can export to rich media formats such as GIF, MP4 or HTML5. Or, copy the embed code and paste it to your website.
Launch your campaign on all the online advertising networks
The rich media content created in Bannersnack is compliant with all the major advertising platforms' standards, from Google Ads to Facebook Ads.
What is rich media exactly?
Rich media ads are highly innovative and interactive ads that utilize the intelligent HTML5 technology. This type of complex ads incorporates numerous types of elements such as video, audio or other media elements that invite a user to interact and engage with the ad.

The possibilities to build rich media banners and to creatively surprise the people surfing the internet are endless. These ads can take the form of pop-ups, floating banners, expanding banners, peel-offs, push-downs, lightboxes, in-stream video ads etc.
Rich Media Advertising
More and more marketers include rich media ads in their online marketing campaigns because of their excellent results: higher user engagement, conversions, and sales.

Rich media ads can outrun standard and animated display ads with increased click-through rates and conversions by as many as five times.

With Bannersnack you can create rich media ads for AdWords and for all of the major ad networks. We meet all requirements and deliver ready-to-use, high-quality rich media banner ads. All you have to do is upload them.
Design a rich media banner right now
Trust Bannersnack in helping you deliver spectacular rich media advertisements that will help you get more traffic to your website and convert internet users into your customers.