Create an amazing design with our menu maker
Your menu design should be as professional as you are. Make your menu appetizing, colorful and full of images with our editor. It's a drag-and-drop editor, and we have tons of templates for you to use while you design your menu. It makes your job that much easier!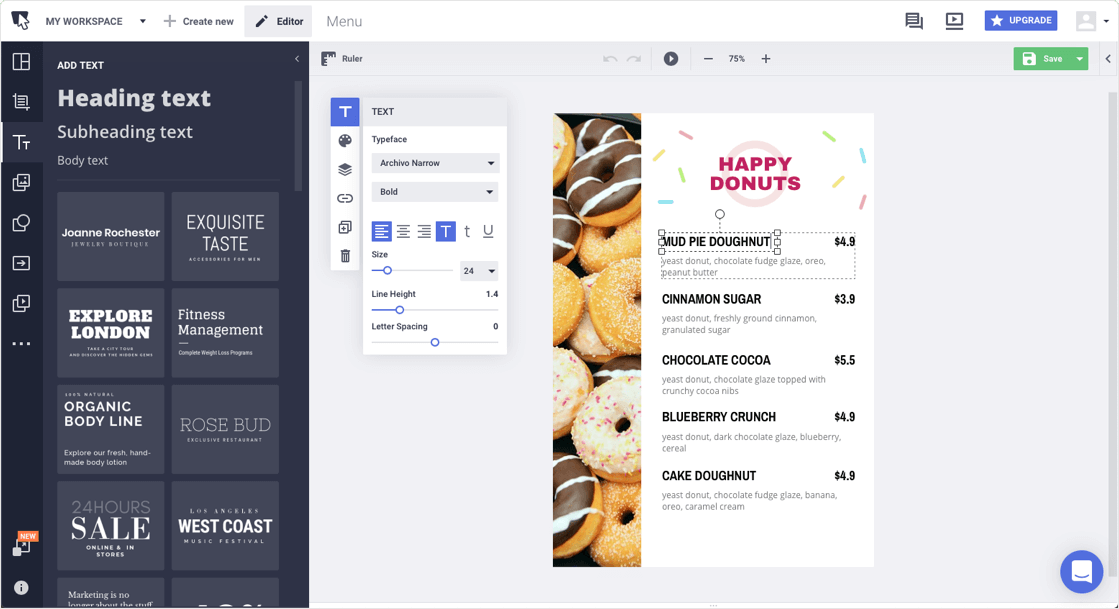 How to make a restaurant menu effortlessly
You can create a restaurant menu design in just a few clicks when you use our easy-to-customize menu maker. You can add images, elements, icons and more to your design to make it your very own. Then you can download it and get to printing!
Are you going for an elegant theme or a minimalist vibe? Take a look around your restaurant and figure out what food menu design will represent your business best!

We have lots of templates and designs for you to choose from. Pick a template that resonates with your style and will make your design really pop!

All of our restaurant templates are 100% customizable, which means you can use our menu creator to make an original menu in seconds. Change fonts, add images, icons and more!

Now that you have the perfect card design, it's time to save and download. Save your work to your workspace, then download it and you're ready to go!
Have the best menu in town
Making a new menu doesn't need to be a difficult task. We are here to help you! Try our menu creator out for free today and have a spectacular design in just minutes!