Explore The Most Efficient
HTML5 Animation Tool
Smooth HTML5 transitions & effects to create dynamic animated visuals
Discover the simplest timeline you've ever used
Bannersnack offers the most advanced online HTML5 editor packed with all the necessary tools. It features a complex, yet intuitive animation timeline and a dynamic slide management system, everything wrapped up in a user-friendly interface.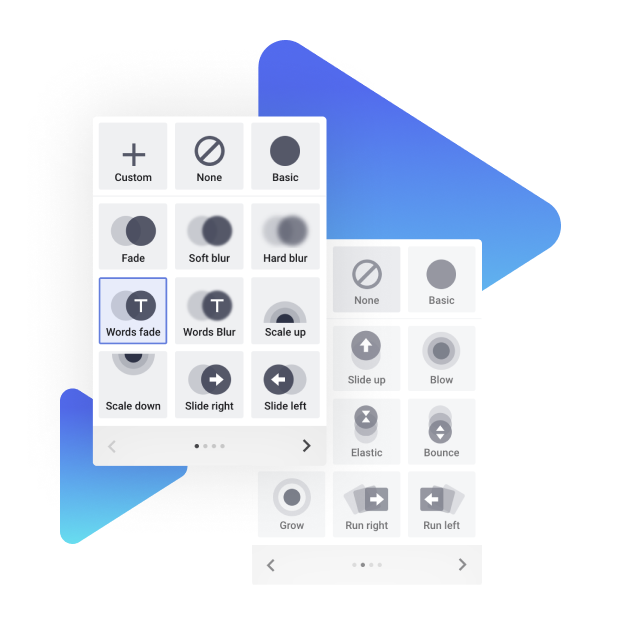 32 ready-made animation presets for a fast result
Animate in HTML5 through an intuitive visual interface. Bring your designs to life by creating intricate animations using effects and transitions from our library. Bannersnack features 32 presets that will make animating any design easy. No coding skills required!
Custom animations using advanced variables
Bring your own assets into Bannersnack, upload your own fonts, logos, images or SVG files. Animate them by adjusting the duration or delay of your text animations, add custom variables & create smooth slide transitions. Make your designs stand out and attract more attention.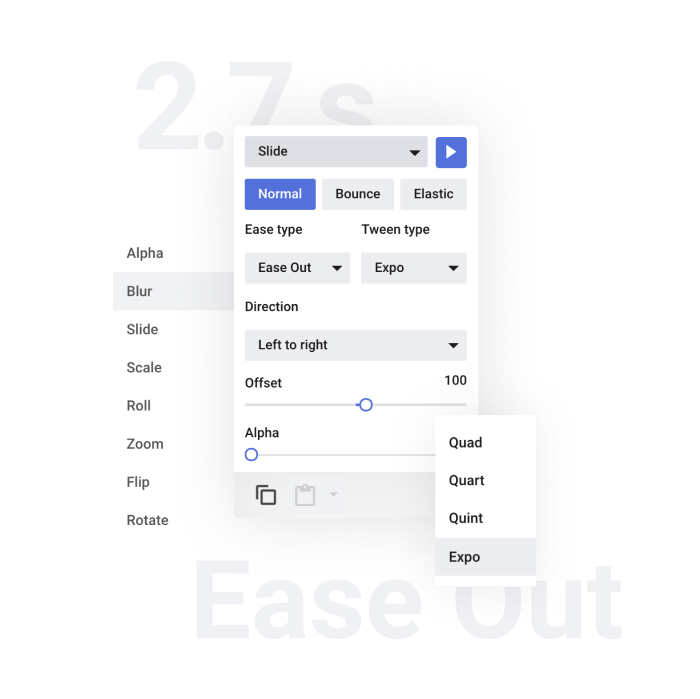 Animate visually, in just one click, with Magic Animator
If you're short on time, just use the Magic Animator tool in our HTML5 editor, it will create animations out of your design with just one click. We highly simplified the whole animation process, while keeping the end result as consistent as possible, delivering high quality results within minutes.
FAQ
What are animated banners?
Animated banners are ads used to promote a business and have moving visual elements such as text, icons, or shapes. An animated banner can be designed to end similarly to how it started, playing in a seamless loop without causing a disruptive pause between transitions. The purpose of an animation is to grab people's attention even more than a static banner, increasing the chances of them clicking on it.
What are the most common animated banner sizes?
According to Google, there are a few different animated banner sizes for desktop and mobile devices. For desktop, the best sizes you can use are 200 × 200, 240 × 400, 250 × 250, 250 × 360, 300 × 250, 336 × 280, 580 × 400, 120 × 600, 160 × 600, 300 × 600, 300 × 1050, 468 × 60, 728 × 90, 930 × 180, 970 × 90, 970 × 250, and 980 × 120. For mobile devices, try to use one of these sizes: 300 × 50, 320 × 50, or 320 × 100.
How can I make my animated banner more attractive?
Here are a few tips you should focus on: sticking to the recommended animated banner sizes; choosing colors that will help your ad stand out; adding your brand's logo; selecting the font that matches the overall composition of the ad; having a clear headline. You can play with different colors in your text to emphasize a specific word. Don't forget about white space to make all the elements visible. Finally, add transitions and other effects to make it dynamic and grab everyone's attention.
Can I make an animated header for my website?
Yes, you can make an animated header for your website. It's a great way to make visitors engaged with your website and scroll down to see some more. To create an animated website header, you can use Bannersnack, a super-intuitive and easy-to-use design tool with all the features you need to create outstanding visuals. Add high-quality stock images or videos, play with icons and shapes, and add animated effects to create a perfect header for your website.
What is the purpose of an animated banner?
An animated banner will grab people's attention even more than a static banner. That being said, it gives you the opportunity to set your brand apart. If the animated banner has a great design and a compelling copy, people will click on it. Animated banners help your brand stand out from all the other advertisements out there. Their interactive nature has the potential to drive more clicks and conversions.
Thousands of amazing HTML5 banners are made every day
Explore our HTML5 examples and see how Bannersnack can improve your work.