How to create email GIFs fast and easy
The most powerful online visual editor allows you to create an email GIF in minutes. With Bannersnack, it's just a matter of drag-and-drop.

Download your work in any of the following media formats: JPG, PNG, GIF, HTML5 or MP4 at the highest quality possible.

Insert your GIFs in an email

Generate more engagement from your emails by using animated GIFs instead of traditional static visuals.
Use the power of HTML5 animations and transitions
Click on the different presets to see them in action. No coding skills or designer needed.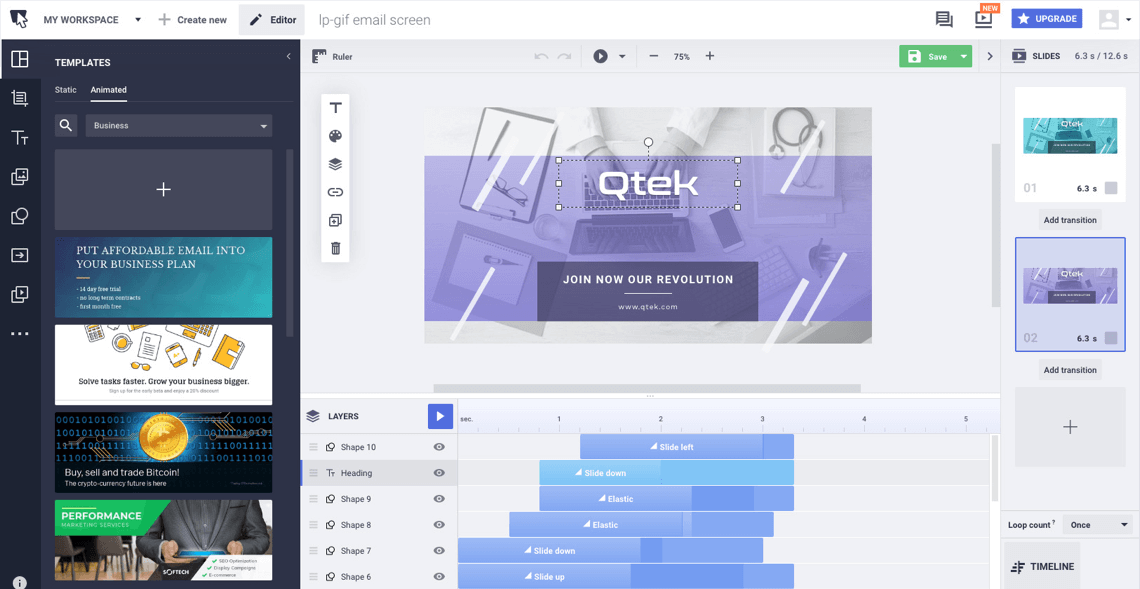 Help your emails get more clicks
Step up your game and improve your marketing campaign with the help of animated emails. Start designing animated email headers and other GIF elements within minutes. Sending emails with GIFs comes with a series of advantages:
Create email GIF
GIFs work on any device
Grab users attention no matter the device they use: mobile phones, desktops or tablets
Increased reader engagement
Entice users to interact with your emails by leveraging the power of animations and GIFs
A more professional feel
Communicate like a pro. High quality and professional designed templates to use in your emails
Everything you need to create animated emails
Drag and drop GIF editor
Easy to use editor. Make GIFs in minutes with only a few clicks by simply drag and drop all the resources
Unlimited stock images
Thousands of high-quality images waiting for you to pick and make them alive by using animations.
Popular fonts
We have a huge collection of classic and trending fonts but you can also upload and use your own fonts.
Smooth animation effects
Alpha, Fade, Bounce, Scale. Try our animation presets to surprise your readers. Thy will love them.
Animated templates
Ready made templates created by our professional designers waiting for you to chose one.
High GIF compression
It ensures top quality for your downloaded banners. They are optimized for any email marketing campaign
Frame rate control
Achieve high color quality and optimal size for your animated GIFs, Enticing and high performing at the same time.
500+ Vector cliparts
Find anything you want in our infinite clipart, illustrations, and graphic arts library. All you need to be creative.
Email client compatible
Supported by all major email clients: Gmail, Yahoo, Outlook, AOL and so on. Compliant with all email providers.
Create GIFs for your email marketing
Master GIFs in email marketing to surprise and engage your audience