Here's a case study about Sony's AB test on banner ads:
Sony had some banner ads promoting customizable laptops, but they were not performing very well. So one of their web merchandisers thought about starting an AB test with some variations of the message an the design of the banners, to find a solution to fix the problem.
The test includes 3 banners, so it was actually an A/B/C test. Their messages focus on either the customization options or on a promotion on double SSD storage. The result was about to show them what was the more attractive offer for shoppers.
Check out the 3 banners bellow: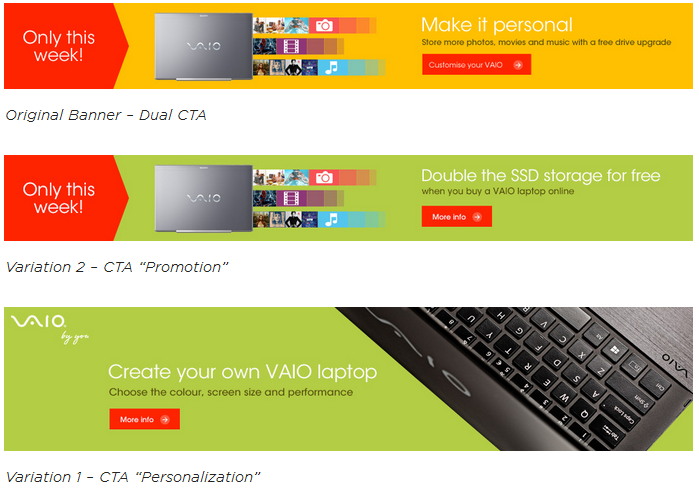 The banner efficiency was analyzed by tracking 2 things: the number of clicks on each banner and the conversion (how many visitors that clicked on each banner landed in the shopping cart)
The ABC test results
| | | |
| --- | --- | --- |
| Banner | Improvement | Conversion rate |
| Original | - | 1.2% (30.17%) |
| Variation 2 | - 2.9% | 1.1% (30.17%) |
| Variation 1 | +21.3% | 1.4% (30.19%) |
The results are pretty clear. The variation 1 is a clear winner: it led to a 21.3% increase in visitors that reached the shopping cart compared to the original banner.
The variation 2 of the banner performed worse, decreasing conversions by 2.9%.
This case study was conducted by Optimizely. You can ready the whole story here: https://s3.amazonaws.com/optimizely-marketing/customer-stories/sony-casestudy.pdf
If you want to make some AB or ABC tests in your advertising campaigns, check out BannerSnack!