What is a banner rotator?
A banner rotator is a container that allows you to show multiple types of content (banners, images and/or HTML content) in the same area on a web page without having to use multiple files or coding. Each new page view triggers a different item from your rotator.

To use it, you only need to copy/paste the banner rotator embed code just like a Youtube video. Banner rotator embed codes use compatible HTML for mobile devices and are great for websites using content management systems such as Wordpress or Joomla.
How can you use the banner rotator?
With a banner rotator you can manage the content displayed on a web page even if you don't have access to the code. Once your programmer installs the embed code, you can manage that yourself, directly from Bannersnack.
Show something different on each page view
Use banner rotators to show different content on each new page users visit. For example, on a Wordpress blog, you can display different images in the right hand side. Save space and show fresh content on any web page, header or footer.
Manage how Google AdSense banner ads are displayed
Let's say that you want to display both AdSense banners and your own content on a page of your website. Insert the HTML AdSense code and the images you want to use in the banner rotator and customize the rotating settings.
How to create a banner rotator
It's easy, just follow the steps below. Important: Make sure that the items you add are the same size as the rotator. For example, if you want to create a 300x250 rotator, you must add 300x250 items. Otherwise, your items will appear distorted.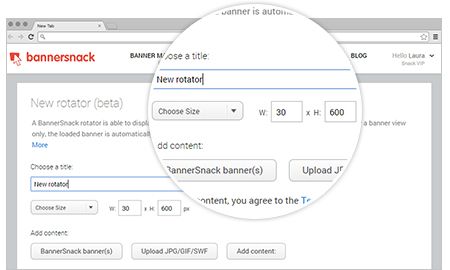 1. Select the size
How large do you want your rotator to be? Choose a width and height of minimum 30 pixels and maximum 2800 pixels.
2. Add your items
You can add banners from your account, upload your own PNG/JPG/GIF/SWF files or copy/paste or write in HTML code.
3. Edit the URL
Type in or copy/paste the URL to which you want to direct users to. You can add a different link for each of the items. Save and you're ready.
FAQs
See below some of the most frequently asked questions about rotators.
Can I edit a live rotator?
Yes. You can pause, delete or add more items and you can even change the URL to which your items link to.
How many items can I add?
Free users are limited to 10 rotators, while all premium users can create an unlimited number of rotators.
How are the items rotated?
By default, items are rotated randomly. However, premium users can customize this with the slider from the Rotator settings area. For example, if you have three items in your rotator and you set the slider to 50%, 25% and 25%, the first item will be shown in 50% of pageviews and the other two will each be shown in 25% of the pageviews.
Do I get any stats?
Yes. Premium users get both a simple reporting with impressions and clicks and a detailed report with stats on clicks on individual rotator items, countries, language and operating systems. The free plan, however, allows you to track and see stats only for the rotator views.