Scroll down to learn more
Smart advertising campaigns.
All your ads in one place.
Advertise on 99% of the web (Google Display Network and Facebook) to find new customers and get the lost ones back. To get the best results, you get your own professional account manager.
All your ads in one place, professional account management & more.
See how easy it is to advertise online with Bannersnack Ad Campaigns.
Where your ads will show, how much it costs and other details.
Why advertise with us
All your online ads in one place
Banners and Facebook ads, targeting and retargeting campaigns - you can now manage all your online advertising campaigns from one single account. Say goodbye to multiple interfaces and accounts.
Widest exposure for your ads
Show your ads both on the Google Display Network and on Facebook from the same campaign. Moreover, because we're connected to different advertising partners, your ads will run on a much wider inventory, including desktop and mobile devices.
Performance and auto-optimization
With Bannersnack Ad Campaigns, you can run both keyword targeting and retargeting - the most efficient campaign types to date. Moreover, we also use backend auto-optimization so you get even better results.
Simplified reporting
Bannersnack Ad Campaigns reporting won't give you headaches and you don't have to be an Adwords expert either. We created a simple, focused reporting with key metrics that tell you how your campaign is performing.
Professional account management
Online advertising might not be rocket science, but it's not a walk in the park either. Also, you shouldn't spend countless hours trying to understand everything. That's why you get a dedicated account manager to help you every step of the way.
Banner design expertise
We know that banners are key for a successful campaign. That's why we have constantly improved our templates. You can create your own ads with our easy to use banner maker for free or place an order with our custom design service.
One single tracking code
Conversion tracking is key for measuring online advertising performance. We made it very easy: one single tracking code to install on all your pages, on all your websites. With it you can both track conversions and create retargeting lists.
Faster results with engage rate
Any conversion starts out as a page interaction. That's what engage rate tells you: the percentage of users who also interact with your landing page after they have clicked on your ad. Because you get results sooner, you can decide which ad performs best.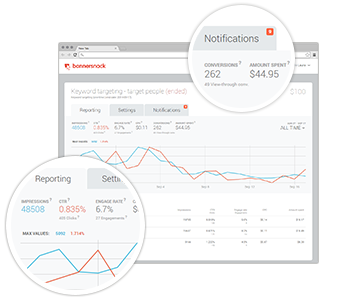 How Bannersnack Ad Campaigns works
1. Add your banners and/or Facebook ads
Select from "My banners", upload from your computer or create Facebook ads on the spot. Once you add your banners, you only need to edit the landing page once and it will be automatically added to all your ads.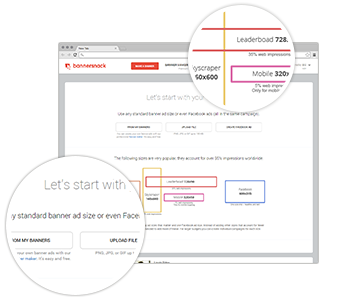 2. Select the campaign type and add the details
Choose the location where you want to show your ads, the type of campaign (targeting or retargeting) and add the details. If you're not sure about campaign type, read more here.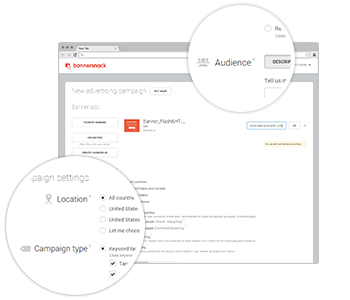 3. Edit your budget and save
Edit your budget for your campaign, select the dates and you're ready. Our account managers will take it from here and handle all the hard work for you.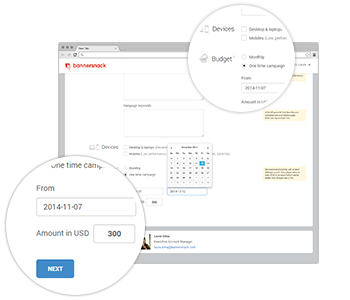 See for yourself how easy it is to start a campaign.
Start now
What should you choose: targeting or retargeting?
If you're not sure which is the best ad campaign for your needs, start here.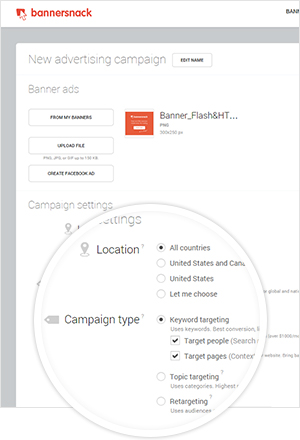 Do you want to get more visitors to your website?
If you want advertise online to get new customers, choose between keyword and topic targeting.
Do you already have a constant number of visitors?
Start a retargeting campaign to get back lost visitors and to increase conversions.
More about ad campaign types
Keyword targeting
Show web and Facebook ads to people who have searched for and/or on pages that contain important keywords for your business. Recommended for reaching new customers and highly efficient even on a lower budget.
Topic targeting
Our account managers will use the details you provide to select the best website categories and subcategories for your ad campaign. Recommended for reaching new customers with local or large budgets campaigns.
Retargeting
Users frequently abandon before they complete the checkout process or before they fill in the form on your website. With retargeting, they see your ads, both on Facebook and the web, come back and convert.
If you're still having doubts...
Here are some questions our customers usually ask us before starting a campaign.
Where will my ads show?
If you choose target keywords - target people or retargeting, the sooner people see your ad after they perform a search, the higher the chances of a conversion. That's why you shouldn't worry that much about it. If you choose target keywords - pages, your ads will appear only on websites that contain keywords that are important to you.
What do I need to get started?
You only need to add your banners, budget and details (landing page, the areas that you want to target: countries, cities, zip codes or DMAs) and you're ready. Also, we recommend adding 728x90, 300x250 and/or 160x600 banners as those are the most popular sizes.
How much does it cost?
With Bannersnack, you only need to pay the campaign budget, there are no extra fees for managing and optimizing your campaign. What's more, if you're not a premium Bannersnack member, you can use our banner maker for free to create ads and use them in an advertising campaign.
How many impressions will I get?
The number of impressions depends on the campaign and geo targeting settings, as well as on the banners. Going with less popular sizes might mean fewer impressions. The average Display CPM in 2014 is $1.90, which means that you get about 52600 impressions for $100.
If you have more questions, we'd love to talk to you.